Affordable To Luxurious Tucson New Homes
See New Home Communities In Tucson AZ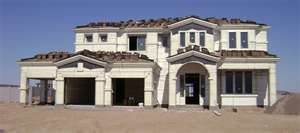 Tucson New Homes & New Home Communities are springing up across Tucson AZ. Many national home builders have projects underway throughout the Tucson area.
Tucson new homes are even meeting the needs of active adults in 55+ communities. First time home buyers are finding a new home may strike a balance between lifestyle and home price.
Why Buy A New Home?
Why buy a new home? The answer depends on what you are looking for. Keep in mind, buying a new construction home is a bit more involved then buying a resale home. But it offers the opportunity to "make it yours" right out of the box.
8 Things To Know BEFORE You Enter The New Home Builders Model Homes and Sales Office
See New Homes & New Home Communities In Tucson AZ
It is important for you to understand
You have the right to be represented by a Realtor when buying a new construction home.
BUT your Realtor

MUST

be with you on your

FIRST

visit to the new home builder's sales office and register you!
You will not pay more to have US represent you when buying a new construction home in Tucson, AZ.
If you don't have a Realtor with you on your first visit – KNOW THIS
The sales agent at the builder's sales office works for the builder,

NOT YOU!

They will ask you to "register" when you come in – or shortly after.
If you register, you are

GIVING UP YOUR RIGHT

to be represented by a Realtor at that builder's site in the future.
Chances are the builder's sales agent

WILL NOT

disclose this to you!
If you register at the builder's site, you are on your own to work through the builder's contract and all purchase decisions. Yes, the builder's sales agent will work with you through the paper work. They will answer your questions.

BUT

with who in mind? You or the builder they work for?
Single Pricing Policy
New Tucson homes will range in price from $250,000 to $800,000+. Custom built new homes in Tucson will start around 1 Million Dollars. The buyer's budget is the only limitation from there. Photos of many new Tucson luxury properties for sale are available on this website.
And one more thing to understand. You will not pay more by having a Tucson Realtor represent you when buying any new homes in Tucson.
Tucson Home building companies abide by a 'Single Pricing Policy'. Their pricing is the same whether you use a Tucson Realtor to represent you or not.
Consider The Boldt Team To Represent YOU
Why would you want to use a Tucson Realtor to represent you when buying a new construction home in Tucson? Because they represent YOU – The Buyer! A Realtor is responsibility to protect their client's interests.
Kim has also been certified by the National Association of Realtors (NAR) with the New Home Construction and Buyer Representation designation.
We have experience working through most of the home builders in Tucson and one thing we know, each new home community builder has a different contract. The contract you will sign protects the builder, NOT YOU!
When we represent a new home buyer we want you to understand each section in the contract which you will sign. Help you understand what the language means – to YOU. What could go wrong and what happens to YOU if it does. Will the builder alter their contract language? In some cases, MAYBE! In most No!
We will ask the questions and get answers – in writing – to help you assess your risks and make an informed decision. We will be your TRUSTED adviser when you decide to buy a new home in Tucson AZ.
Conclusion
Working with new home builders may seem a difficult task. But it really isn't, if you have a Realtor with the experience and training at your side.
We have unmatched business experience BEFORE becoming experts in Tucson Real Estate. Check out our backgrounds and experience. Read what our clients have to say about our services. Kim is certified as a new construction buyers representative. Also as a senior real estate specialist.
If you are considering building a home in a 55+ community, take a look at SaddleBrooke Ranch, Del Webb at Dove Mountain and Quail Creek In Green Valley, AZ.
Sign UP to receive daily HOME TRACKER UPDATES - OR - Our Monthly NEWSLETTER. And get regular updates on the Real Estate Market and events in Tucson, AZ.
Questions about the Tucson Real Estate Market or Tucson Homes for Sale? Call Us - 520 940 4541 OR complete the - CONTACT FORM - and we will get right back to you!
Save