What You Need To Know About R22 Freon
[quickshare]
R22 Freon Is Banned – But NOT Extinct – For Now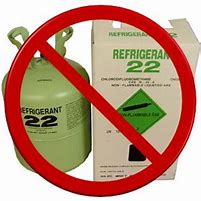 Would you believe R22 Freon won the southwest? OK, maybe not all by itself.
Yes, there were many reasons to settle the southwest. But without R22 Freon, central air conditioning may not have happened. NO A/C, fewer people, smaller economy, fewer jobs, etc.
R22 Freon makes summers in Arizona comfortable. But R22 refrigerant contains ozone-depleting CFC's. Although efficient for air conditioning systems, but any leaks of R22 Freon depletes the ozone layer.
R22 is a greenhouse gas. Manufacturing R22 creates a by-product that contributes to global warming. This leads the EPA to take action to phase out the manufacture of R22 Freon.
The myths surrounding the phase out and R22 replacement are many. The facts, not well understood.
R22 Freon Refrigerant Phase Out
Manufactures could not build equipment, pre-charged with R22 Freon after January 1, 2010. All "pre-charged" A/C systems had to use R-410A refrigerant. Also know as "Puron".
Transition to the new refrigerant created confusion about the future of R22 Freon.
Production of R22 Freon will stop by January 1, 2020. Manufactures will stop production of "Virgin" R22 Refrigerant. And imports will stop as well.
But, and this is important, recovered R22 will be available to service existing systems. And this will include new dry R22 Freon based A/C condensers.
But the end will come for R22 Freon refrigerant on January 1, 2030. After that date it will be against the law to service existing A/C or heat pumps with R22 Freon.
Rumors Abound
One of the big rumors is that R22 A/C condensers are not available. This is not true. They are available.
And you can charge them with R22 refrigerant. Either "virgin" or reclaimed.
A second rumor is that R-22 Freon will not be available after January 1, 2020. Again, as stated above, this is not true.
Production will stop, but reclaimed and recycled R22 Freon will be available. Albeit, more expensive. A lot more expensive.
The Rest Of The Story
Now this is worth remembering! Reclaimed and recycled R22 Freon has the same purity standards as virgin R22. And there are NO EPA requirements to change or convert R22 Freon units to R-410A.
To convert a system from R22 to R-410A requires changes to system components. So stay with your existing R22 Freon system as long as you can.
Although the cost of R22 will continue to rise, it will be available until 2030. So if you have a leak, have the technician use reclaimed R22 Refrigerant.
In light of the costs, retrofit to an existing A/C or heat pump may be more than you think. But we will all be there at some time in the future. Like it or not.
Considering A Home In Tucson, AZ?
Are you thinking of buying a home in the greater Tucson area? Finding the right home can be a challenging process. But we can make the process much less stressful for you.
We have been Tucson Realtors since 2002. We know Tucson and the Tucson Real Estate market. As a top Realtor duo, we invest the time to understand your home buying interests and desires. At our first meeting, we will review the current real estate market with you. Show you the market data and then walk you through the Arizona home buying process.
Why? We want you to know what to expect. And what to plan for.
Interested in new construction? We'll brief you on buying a new construction home. And what's unique about the process.
For us, you are not another real estate transaction. You are a client and, future friend. We strive to create a relationship that continues long after you move into your home. Review our profiles. Check out our backgrounds, education, and certifications.
We are here to help you "know what you need to know" to buy a home in Tucson, AZ. We provide you information on Tucson events, places to shop and restaurants. Our resources include contractors, electricians, and home services. We will also help you get deals on tile and paint to make the home you buy yours. Our professional service backgrounds mean we put you first!
Thinking about selling a home in the Tucson area?
Selling a home requires more than listing it in the Tucson MLS system. It's about marketing. Marketing through multiple online channels.
To no one's surprise, 80% of home buyers start their search on the internet. Homes must be visible on multiple internet channels. The more visible a home is, the faster it will sell.
We use multiple online marketing channels to showcase your home. We will build a stand-alone website built to show your home. Our marketing program targets key cities in the U. S. based on the season. For luxury listings, our drone service provides video of your home and neighborhood. This video along with professional photos helps the online buyer see and feel in your home.
To learn more about how we can help you sell your Tucson home, call us – 520-940-4541 – to arrange a meeting. We will visit your home and prepare a comparative market analysis. Then we will meet with you to review our analysis and our marketing program to "get your home sold!"
Conclusion
Thank you for visiting www.premiertucsonhomes.com! It's one of the top real estate websites in Tucson. Our clients say that, not us.
Our website provides information on communities and neighborhoods in the greater Tucson area. Want more? Give us a call – 520-940-4541. We are ready to answer your questions and help you get the information you are looking for.
We are a top Realtor duo in Tucson, AZ since 2002. Read our client testimonials. Give us a call. We look forward to making your home buying or selling a home an enjoyable experience for YOU!
Sign UP to receive daily HOME TRACKER UPDATES - OR - Our Monthly NEWSLETTER. And get regular updates on the Real Estate Market and events in Tucson, AZ.
Questions about the Tucson Real Estate Market or Tucson Homes for Sale? Call Us - 520 940 4541 OR complete the - CONTACT FORM - and we will get right back to you!