SaddleBrooke A Tucson Active Adult Robson Community
SaddleBrooke Homes For Sale With Features, Descriptions, Pictures & Maps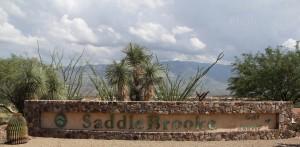 SaddleBrooke
is located northwest of Tucson and about 10 miles north of
Oro Valley
, in the foothills of the stunning Santa Catalina Mountains.
SaddleBrooke is an active adult community. Saddlebrooke was voted one of the top 100 Best Master Planned Communities in the country by Where To Retire magazine.
As an active adult community, one person must be at least 55 years of age. Note – there may be Certain Conditions that will reduce the age limit to 40 years old.
Established in 1986, SaddleBrooke now has almost 8,000 residents.  Fewer than 150 new home site remain. The community provides a wide range of home sizes and interior features to suit your lifestyle.
Find A SaddleBrooke Home Floor Plan To Suit Your Lifestyle
The Preserve at SaddleBrooke is located in the northeastern section of the community.  The Preserve is a community within a community and offers a secluded sanctuary and luxury homes.  Model homes reflect a wide range of architectural styles.
The community offers an abundance of community groups and activities.  If an active lifestyle is your "cup of tea", then SaddleBrooke may be for you. SaddleBrooke is the ideal Arizona Retirement Community to live in.
The residents are friendly and welcoming and there is so much to do, including: Championship Golf Courses with club house and Pro Shop.  Performance Arts Theater and Creative Arts Centers.  
Softball Field along with Pickleball & Bocce Ball Courts. There is a Health & Wellness Program, restaurants & Lounges & Community Newspaper Paramedics are On-site in the Neighborhood Center Further north of Saddlebrooke is the new community of SaddleBrooke Ranch.
While early in the develoment, this new community will have over 6,000 homes when completed.
Considering Tucson Arizona as a place to retire OR looking for Real Estate In Tucson AZ? We can help!
Sign UP to receive daily HOME TRACKER UPDATES – OR – Our Monthly NEWSLETTER – OR – Tucson Real Estate INFORMATION. They are all FREE!
SaddleBrooke Homes for Sale
was last modified:
June 19th, 2015
by
Questions about the Tucson Real Estate Market, Tucson Homes or SaddleBrooke Homes for Sale? Call Us 866 316 5575 OR complete the CONTACT FORM and we will get right back to you!
[sq_pop_shortcode popup_id="6009446″ appear_position="pop_top_right" appear_behavior="pop_on_exit" appear_behavior="pop_on_exit" background_color="pop_bg_transparent" display_area="pop_display_particular" background_cover="pop_cover_no" frequency="once" delay="0″ ]
SaddleBrooke Homes for Sale
was last modified:
June 19th, 2015
by