203K Loan For Buying And Renovating A Home
Making A Fixer Upper Your Dream Home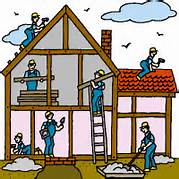 Is a 203K loan or Rehab loan right for you? Well, like many things, it depends.
But if you are planning to buy a home in a "low inventory" market, the 203K loan gives you extra buying power.
Here's why!
A 203K Real Estate Loan is a cost-effective way for buyer's to buy a home and finance home repairs and improvements.
Home buyers looking for a "fixer upper" should call their mortgage lender to explore this type of loan.
Using a 203K rehab loan means there is ONE loan. One loan to buy and RENOVATE a home. The FHA 203K loan is also useful when refinancing an existing home that needs updating.
And the 3.5% down payment makes getting it a lot easier.
Quickly See ALL Fixer Upper Homes In The Tucson MLS
The beauty for the renovation loan program is it It saves time and money. One loan, one loan approval and no extra closing costs.
And the rehab costs are in the mortgage not coming out of the buyers pocket after closing.
How does it work?
The process is similar to regular home buying loans, with some modifications:
Apply ? Get Approved ? Find A Contractor ? Get Bids ? Close the loan ? Complete Repairs ? Move in
Receiving a final approval involves lining up contractors. That means getting quotes, receiving bids, and selecting vendors.
Yes, there are more "hoops" to jump through. But don't get stressed. The 203k lender drives the process and will guide you through the process.
A knowledgeable Realtor is also key. They will be able to discuss what modifications to a home add the most value. You're not on your own!
2 Types Of 203K Loans
The 203K Rehab Loan comes in two types – Standard and Streamline.
The Streamlined 203K addresses cosmetic repairs and updates. The smallest amount financed is $5,000.
A Standard 203K Rehab Loan program addresses repair costs over $35,000. Structural changes, adding rooms, new electrical, and a host of other items.
Streamlined FHA 203K Loan
"Structural repairs" are not allowed under a Streamlined 203K. In fact, making any structural items is not considered to be minor by FHA/HUD.
And the repairs included in the rehab loan must increase the marketability and value of the home.
All repairs and improvements must meet HUD's Minimum Property Standards. And all work must meet all local building, zoning and other codes .
Minimum repairs include any health and safety repairs. For example, peeling lead paint or replacing missing railings.
Whether you want those items included or not.
Any health and safety issues are first. Smoke detectors need to replaced if missing.
Type Of Work That Can Be Included In The Streamlined FHA 203K Renovation Loan

The Streamline 203k loan program is most popular. Simply because there is less red tape and costs. Again, repairs must be less that $35,000. And no structural changes can be make. Renovations can include kitchens, baths, windows and flooring.
Repair, Replace or Upgrade
Roof, gutters, downspouts
Existing HVAC systems
Plumbing and electrical systems
Flooring
Painting
Appliances
Weatherization
Repair, replace or add exterior decks, patios, porches
Basement waterproofing
Window and door replacement and exterior siding
Septic and/or well repair or replacement
Improvements for accessibility
Lead-based paint stabilization or abatement of lead-based paint hazards
What can't you do? Ineligible improvements under the Streamlined 203(k):
Major structural repairs
New construction (adding a room)
Repair of structural damage
Repairs requiring detailed plans and specs
Any repair taking more than 6 months to complete
Repairs that would need more than 2 draws
Luxury items that are not a permanent part of the real estate
Granite, marble countertops, jacuzzi tubs, hot tubs, pools, etc
Standard FHA 203K Rehab Loan

If you have a larger project the Standard FHA 203K loan may work for you. The Standard Renovation Loan will address a home that needs a full gut job. Even added rooms fall under the Standard Renovation Mortgage.
This is what we refer to as the "full blown K".
A "full K" allows you to make "structural" changes. Even the need to enlarge a house, build a new home on an existing foundation and even take an existing house and move it.
So, you can imagine that the process is a bit more involved.
Think of it as a mini construction loan program. And your contractor can ask for as many as 5 draws. But each draw request needs to have an inspection to ensure the work has been completed.
Because it is more involved than a standard loan, there are more costs involved.
Type of work for a Standard 203(k)
Structural alterations and additions
Garage
Attached unit (new)
Remodeled kitchen and baths
Changes to eliminate obsolescence and reduce maintenance
Modernize plumbing, heating, A/C and electrical systems
Install or repair well or septic systems
Roofing, gutters, downspouts
Flooring, tiling and carpeting
Energy conservation improvements
Major landscaping
Improvements for accessibility
New free standing appliances
Interior and exterior
Swimming Pool repairs
Other improvements that are a PERMANENT part of the real estate
And as indicated before, luxury items are NOT permitted in the project.
What is different from the Streamlined K and the full FHA 203K Renovation Loan?
The full 203K rehab loan requires a HUD Consultant (selected from HUD's approved consultant list). And you pay for the consultant.
The HUD consultant understands the program and what can "fit" into the renovation loan.
They will come to the property to review your anticipated improvements.
They will inspect the property for any health and safety issues. These items must by included in the project. The consultant will prepare a "Work Write-up" for the project based on the work you would like to have done.
Because the rehab project is bigger and includes a HUD consultant it takes longer. A lot longer.
Here are a few additional items to consider
First, there are a lot of other rules in the 203K loan program. So find a Realtor and a Lender who has understands them.
Its an FHA mortgage for a primary residence only with a 30 year term. The maximum 203K renovation loan is limited to $295,000 in PIMA County. The maximum varies by state and county.
A 203k loan will require a longer close of escrow. Usually between 45 and 60 days. Think 90 days plus for a Standard 203K renovation loan.
And remind your Realtor to notate on the appropriate line of the Arizona Residential Purchase Contract: "Buyer obtaining a FHA 203K Rehab Loan; terms & conditions apply." Most will not know it needs to be done.
Considering A Home In Tucson, AZ?
Are you thinking of buying a home in the greater Tucson area? Finding the right home can be a challenging process. But we can make the process much less stressful for you.
We have been Tucson Realtors since 2002. We know Tucson and the Tucson Real Estate market. As a top Realtor team, we invest the time to understand your home buying interests and desires.
At our first meeting, we will review the current real estate market with you. Show you the market data and then walk you through the Arizona home buying process.
Why? We want you to know what to expect. And what to plan for.
Interested in new construction? We'll brief you on buying a new construction home. And what's unique about the process.
For us, you are not another real estate transaction. You are a client and, future friend. We strive to create a relationship that continues long after you move into your home. Review our profiles. Check out our backgrounds, education, and certifications.
We are here to help you "know what you need to know" to buy a home in Tucson, AZ. We provide you information on Tucson events, places to shop and restaurants. Our resources include contractors, electricians, and home services.
Most important to you, our professional service backgrounds mean we put you first!
Thinking about selling a home in the Tucson area?
Selling a home requires more than listing it in the Tucson MLS system. It's about marketing. Marketing through multiple online channels.
To no one's surprise, 80% of home buyers start their search on the internet. Homes must be visible on multiple internet channels. The more visible a home is, the faster it will sell.
We use multiple online marketing channels to showcase your home. We will build a stand-alone website built to show your home. Our marketing program targets key cities in the U. S. based on the season. For luxury listings, our drone service provides video of your home and neighborhood. This video along with professional photos helps the online buyer see and feel in your home.
To learn more about how we can help you sell your Tucson home, call us – 520-940-4541 – to arrange a meeting. We will visit your home and prepare a comparative market analysis. Then we will meet with you to review our analysis and our marketing program to "get your home sold!"
Conclusion
203K Rehab Loans are having a return in our marketplace! As home listings have declined, buyers are rationalizing why a "fixer" should be in their Tucson home search. But, find out if are eligible for a 203k real estate loan before starting you home buying search.
Thank you for visiting www.premiertucsonhomes.com! It's one of the top real estate websites in Tucson. Our clients say that, not us.
Our website provides information on communities and neighborhoods in the greater Tucson area. Want more? Give us a call – 520-940-4541. We are ready to answer your questions and help you get the information you are looking for.
We are a top Realtor team in Tucson, AZ. Read our client testimonials. Give us a call. We look forward to making your home buying or selling a home an enjoyable experience for YOU!
If you are looking for homes in Tucson Arizona OR considering Tucson Arizona as a place to retire to? We can help!
For more information on the FHA 203k loan program, visit the HUD website.
Sign UP to receive daily HOME TRACKER UPDATES - OR - Our Monthly NEWSLETTER. And get regular updates on the Real Estate Market and events in Tucson, AZ.
Questions about the Tucson Real Estate Market or Tucson Homes for Sale? Call Us - 520 940 4541 OR complete the - CONTACT FORM - and we will get right back to you!