Top Roof Types For Hot Climates
Make The Right Choice To Be Cool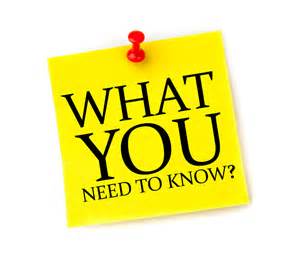 Did you know that roofs do more than protect your home from the weather. Since weather varies by the area you live in, roof types should as well.
If you live in southern Arizona, you know we have warm summers. OK, Hot summers. So which roof types are better for southern Arizona homes?
Poor roofing materials degrade in hot sun. That means cracking and deterioration over time. With that, heat transfers through the roof into your home.
So the type of roof material you have on your home will make a big difference to the temperatures inside.
The quality and type of insulation will also make a significant difference.
If you are re-roofing your home, choose the right materials for your area. Materials designed for hotter climates stand up to heat.
They will also provide ventilation between the roofing material and decking. meaning that homes stay cooler than they would with asphalt shingles.
Some materials make thermal transfer much more difficult. Others reflect sunlight off the roof, keeping homes cool as a cucumber. Different hot-weather materials all have their pros and their cons, of course.
Here is information to help you to select the best roof materials for your home.
———
Roofs are an essential part of any building or house. It offers structural support and protection from external conditions to a house. Moreover, roofs also contribute to the energy efficiency of a home, depending on the type of material used in its construction.
The hot sun, the harsh rains, and the chilled snow can make a building warm or cold and also affect the interior temperature. Therefore, it is essential to install the right type of roof made of the correct type of material to protect a building from external weather conditions.
Let us explore the type of roofs that are best suitable for hot climates.
Terracotta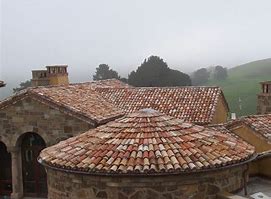 The terracotta and clay roofs have been in existence for decades. Both the materials are highly suitable for hot climates as they can tolerate heat and stay cool in high temperatures keeping the interiors cool.
Terracotta and clay are durable and can last for decades on a house or any building. Also, the looks of these roofs are attractive and add to the visual appeal of your home.
Another factor that supports these materials is that both of them resist heat with the cutting style of their tiles. The small air pockets between the tiles allow the circulation of air and water that keeps them cool even in hot climates.
The flow of air cools the roof and also prevents the transfer of heat to the interiors, thereby keeping a building cool.
Beton tiles are used in hot climate regions. The material is more expensive than conventional processes, but ideal for long-term use. This stops sunbeams from heating your house and keeps the temperature perfect.
Metal roofs
It's a common belief that metal roofs are not good for locations with hot climates. Metals are heat resistant and highly durable when installed correctly.
It is best to use light-colored metal sheets to create a roof to have better heat resistance and block the sun rays to enter the interiors of a house.
Despite the high cost of metal roofs, installing them can prove cost-effective in the long term. However, they are beneficial in the long term as they make your home energy efficient.
Metals cool down quickly and do not retain heat. When painted with light-colored paint, they also absorb very less heat and light and do not transfer the heat inside the building.
Slate tiles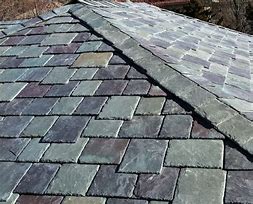 The slate tiles are a natural material that homeowners prefer due to many of its benefits. The stale tiles are reflective that enable them to resist the heat effectively.
However, the slate tiles are available both in light and dark colors. Homeowners should install the light colors of tiles if they want to install them in hot locations.
Usually, commercial establishments like factories and offices prefer installing slate tiles, but you can install them for your home too.
However, one should note that the slate tiles are expensive as compared to other roof materials, and people should compare the costs before making a buying decision.
Concrete tiles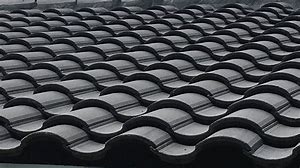 This is a common roof style in Arizona. Preferred by builders and homeowners concrete tile provide shapes and colors to make a home distinctive.
Concrete tiles are one of the best materials to keep the home interiors cool.
The tiles will last decades and even centuries. They are extremely durable.
Solar roofs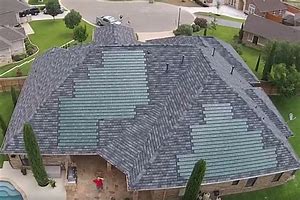 A solar roof not only reflects the heat back into the air, but it also retains it as an alternative source of energy.
This solar energy is converted into electricity through different kinds of shingles, including photovoltaic or PV shingles.
Typical shapes and sizes come with these tables. Although the installation is very expensive, the solar system pays off with the discharge of heat from your home and saves it as electrical fuel.
Its economic efficiency, however, depends largely on how many sunny days they spend in the area. Probably the best places for the solar system are dry and sunny.
Straw Thatch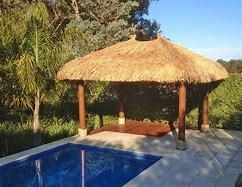 You will not see a thatched roof types on homes in Arizona, or the U. S. for that matter. But they are interesting for a ramada or outdoor sitting area.
Straw thatch is a natural material that offers excellent shelter in winter from cold temperatures and summer heat.
The proper design and maintenance of the stringed roof will have a long-lasting usage of up to 20 years.
The roof material can be more difficult to source, but the ultimate design can be molded into natural designs that do not mimic the conventional angular roofs.
However, the straw roofs are not suitable for locations that are prone to fires like the homes in mountains and near the jungles. It means you should not install the straw thatch roofs if you live in an area with a very hot climate or a fire-prone area.
Elastomeric Coatings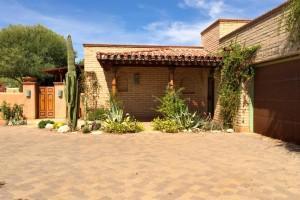 Flat roof homes are popular styles in the southwest. Santa Fe and Hacienda are home styles that will have all or a portion of the home will have a flat roof.
An elastomeric roof coating is an elastic coating applied to a variety of roof types to protect and seal the underlying roofing material, help stop and prevent leaks, and limit future weathering.
They are designed to move with your roof and be more forgiving rather than remain rigid, a quality that makes them especially durable. Some coatings are also designed to cool the building.
The term elastomeric comes from the coating's elastic quality to stretch and move.
EPDM
EPDM is a synthetic rubber that is usually used in the roofs of commercial buildings. But in southern Arizona, it is an option roof type for older flat roof homes.
EPDM is made up of a solid and heat-resistant membrane for the improvement of thermal insulation by professionals.
It is a robust and light-weight material that can keep your roof cool for decades.
Using EPDM for your roofs can also enhance the energy efficiency of your homes and can reduce your energy bills for good.
Green Roofs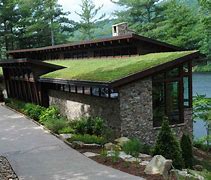 A green roof is not something you well see in southern Arizona. Our temperatures and low humidity mean lots of watering.
Green roofs look natural and add a touch of nature to your house. The pollution in the environment contributes to the hot climates, and creating a green roof can reduce the effect, at least for your home.
The roof of a house is covered with soil, and plants are grown on it in a controlled manner. A water-resistant membrane is installed on the roof so that the foundation of the building is not damaged by water.
Plants also enhance air quality by oxygen release. It can nevertheless be drastic to mount a waterproof membrane on your own over your roof. Green roofs also save the roof painting cost as you don't need to paint your roof.

Final Words
These are some types of roofs that are best for locations with hot climates. As now you know all of these options, you need to do your research to decide which material suits the best as per the environment and climatic conditions of your location.
Consulting a professional who designs energy-efficient homes can also help to choose the right option for your house.
———-
Conclusion
Thank you for visiting www.premiertucsonhomes.com! It's one of the top real estate websites in Tucson. Our clients say that, not us.
Our website provides information on communities and neighborhoods in the greater Tucson area. Want more? Give us a call – 520-940-4541. We are ready to answer your questions and help you get the information you are looking for.
We are a top Realtor duo in Tucson, AZ since 2002. Read our client testimonials. Give us a call. We look forward to making your home buying or selling a home an enjoyable experience for YOU!
Sign UP to receive daily HOME TRACKER UPDATES - OR - Our Monthly NEWSLETTER. And get regular updates on the Real Estate Market and events in Tucson, AZ.
Questions about the Tucson Real Estate Market or Tucson Homes for Sale? Call Us - 520 940 4541 OR complete the - CONTACT FORM - and we will get right back to you!