Bisbee AZ A Great Day Trip From Tucson
Part Of The History Of The Southwest

History Of Bisbee AZ
Bi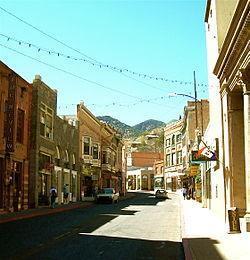 sbee AZ is located about 90 miles southeast of Tucson, AZ – MAP Bisbee sits in the Mule Mountains and is the county seat of Cochise County.
Founded in 1880, and named for Judge DeWitt Bisbee, a financial backer of the Copper Queen Mine.
At the turn of the 20th century, Bisbee AZ was a vibrant copper mining town of the Southwest frontier. Today, it is home to many retirees and artists.
The town of Bisbee has preserved many buildings and homes of its historic past. Hillside streets reminds one of European cities and their upper and lesser towns.
Find Homes For Sale In Bisbee, AZ
In the early 1900's, Bisbee AZ was the largest city in the United States between St. Louis and San Francisco. At that time, Bisbee had a population of over 20,000.
During the early 1900's, that Bisbee had the was a cultural center in the great Southwest.
In 1929, the county seat of Cochise County moved from Tombstone to Bisbee AZ. It still remains in Bisbee AZ, today.
Bisbee AZ provided residents a variety of recreational pursuits. The town had a community library, an opera house, the ball fields and golf course. Bisbee's ball field and golf course were the first in Arizona.
The City was "the Queen of the Copper Camps". The area became one of the richest mineral sites in the world. It produced almost 3 million ounces of gold.
Along with 4 million tons of copper, silver, lead and zinc.
A Brawling Culture
The cultural status and riches of Bisbee AZ, could not hide the rowdy mining camp that it was. One area of Bisbee AZ identified as Brewery Gulch, boasted 47 saloons. Needless to say, the saloons provided booze, gambling and "shady ladies". The area was know as the "liveliest spot between El Paso and San Francisco".
In 1908, a fire raged through Bisbee's commercial district. The massive fire along Main Street left nothing but ashes. Residents immediately began reconstruction and most of the district was rebuilt by 1910. The rebuilt area on Main Street remains intact today.
When mining operations in Bisbee AZ became unprofitable in the mid 1970's, mines closed. Employees and Bisbee Arizona residents left to find jobs and new lives. The departure of one group of residents created opportunities for others. Artists and free spirited individuals found Bisbee an ideal place to live.
To tell the story of its past, Bisbee AZ has established a large museum. One of exhibits presents how the residents created a town and made a living out of the rock of the Mule Mountains. The exhibit is "Bisbee: Urban Outpost on the Frontier".
Copper Queen Hotel
Another historic structure in Bisbee AZ is the Copper Queen Hotel. It opened in 1902. The Copper Queen has been a place for travelers, business tycoons, crooks, gamblers, celebrities and tourists for over a 100 years.
The Copper Queen Hotel has great charm and hospitality. Some believe is its haunted.
People have reported ghosts of an elderly gentleman, a young boy and one of the town's ladies of the night.
Guests seeing a ghost can add their experience in the ghost register. The ghost register is at the front desk and contains many entries.
1950 Movie In Bisbee AZ
The hotel became a movie star in the 1950's and filmed at the Copper Queen Hotel.
Actors included Victor Mature, Richard Egan, Lee Marvin and Ernest Borgnine. As a side note, Lee Marvin had a home in Tucson AZ until his death in 1987.
The hotel continues as a prominent point of interest and over night stay for visitors to Bisbee AZ.
Conclusion
Bisbee AZ is an opportunity to travel back in time. A time when hard working people created a rich history in the Southwest.
Visit the restored neighborhoods of Victorian and European-style homes sitting on the hillsides.
The Queen Mine Tour train is a great way to see the underground mine and work conditions.
Unwind and let your imagination take you back to the turn of the 20th century. Relive the splendor and challenges of living in a frontier town in the late 1800's and early 1900's.
Bisbee Arizona is a great day trip from Tucson AZ. If you have time, consider the chance to relive a bit of history by staying overnight at the Copper Queen Hotel.
Thank you for visiting www.premiertucsonhomes.com! It's one of the top real estate websites in Tucson. Our clients say that, not us.
Our website provides information on communities and neighborhoods in the greater Tucson area. Want more? Give us a call – 520-940-4541. We are ready to answer your questions and help you get the information you are looking for.
We are a top Realtor duo in Tucson, AZ since 2002. Read our client testimonials. Give us a call. We look forward to making your home buying or selling a home an enjoyable experience for YOU!
Considering Bisbee AZ as a future place to retire to OR find a retreat from those challenging winters where you live today? We can help.
Sign UP to receive daily HOME TRACKER UPDATES - OR - Our Monthly NEWSLETTER. And get regular updates on the Real Estate Market and events in Tucson, AZ.
Questions about the Tucson Real Estate Market or Tucson Homes for Sale? Call Us - 520 940 4541 OR complete the - CONTACT FORM - and we will get right back to you!