Credit Score Factors
Helpful Ways To Improve Your Score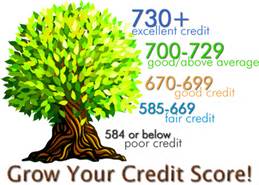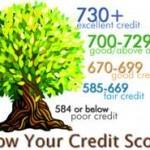 Credit Score Factors are what lenders use to evaluate your credit. Lenders decide whether or not to lend money to a borrower based on their credit score. The mortgage industry is ever changing their lending requirements. The recent foreclosure and short sale activities has plagued the increase in standards for the borrower.
Lenders to evaluate credit score factors based on your FICO score. FICO stands for the Fair Isaac Corporation.
The scoring program assists lenders in managing credit score factors. It provides a standardized approach when making lending decisions on a loan.
Credit Scores
FICO scores range from 300 to 850. A 850 credit score is the highest. It would indicated all the credit score factors are very high. Below is the weight system used when evaluating your credit score:
35% – Borrower's payment history. Late payments on bills including mortgage, credit cards, auto loans, and in some states utilities, can cause your FICO score to go down.
30% – Borrower's credit utilization. The ration of outstanding debts (credit card balances) to the total available revolving credit (credit limit).
15% – Credit history. As your credit history grows, you pay your bills on time, this will have a positive impact.
10% – Types of credit. Installment, revolving, or consumer finance; by using these different types you get some credit for positive history.
10% – Recent search for credit or amount of credit recently obtained.
Other credit score factors effecting the FICO score include
Multiple credit inquiries seeking to open new credit (cards or personal loan)
Applying for new credit in a short period of time
Note: Shopping for a mortgage or auto loan in a short period of time should not effect your credit score factors.
FICO scores do not take into account a borrowers salary, employment history, where they work, rental agreements, interest rates on current loans, child support or other such obligations.
Three Credit Score Agencies
Three agencies report credit scores to lenders and their respective credit scores will vary from one another.
Wonder what a good credit score is? Here's the general valuations:
720 or greater – Excellent
680 – 719 – Good
620 – 679 – Scrutinized
585 – 619 – Disqualifies you from a competitive interest rate
To improve your credit score, consider this:
Pay all your bills on time every month.
Pay off your debt by lowering your utilization ratio. Keep in mind that "closing" an existing revolving account will typically adversely affect your credit score with a negative impact on your FICO score.
Do not open a lot of new credit in a short period of time.
Get Pre-Qualified
Get pre-qualified from a lender before you start your home search.
The Arizona Real Estate Purchase Contract has a Pre-Qualification form. The form is required as part of the purchase contract given to the seller.
Make sure to ask for a copy of your credit report from each of the three agencies. A borrower is allowed to get one free credit report each year from each company. Equifax, Experion and TransUnion will provide you a report. Understanding your credit score will help you get the best mortgage rate possible.
Conclusion
Thank you for visiting www.premiertucsonhomes.com! It's one of the top real estate websites in Tucson. Our clients tell us that.
Our website provides information on communities and neighborhoods in the greater Tucson area. Want more? Give us a call – 520-940-4541. We are ready to answer your questions and help you get the information you are looking for.
We are a top Realtor duo in Tucson, AZ since 2002. Read our client testimonials. Give us a call. We look forward to making your home buying or selling experience enjoyable YOU!
Moving To Tucson OR Searching Homes For Sale Tucson Arizona? We Can Help!
Sign UP to receive daily HOME TRACKER UPDATES - OR - Our Monthly NEWSLETTER. And get regular updates on the Real Estate Market and events in Tucson, AZ.
Questions about the Tucson Real Estate Market or Tucson Homes for Sale? Call Us - 520 940 4541 OR complete the - CONTACT FORM - and we will get right back to you!