Dove Mountain Home Sales April 2017 Update
A Quick Look At Dove Mountain Home Sales April 2017 and Dove Mountain Information
Our Dove Mountain Home Sales April 2017 video update provides a quick review of Single Family Residence (SFR) sales in this growing area.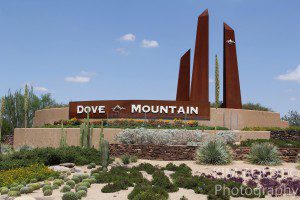 See All Homes For Sale In Dove Mountain
Dove Mountain Real Estate has become a world-class resort community. Subdivisions are built in the rolling hills of the high Sonora Desert. Dove Mountain Real Estate provides residents an active outdoor living experience the year round.
Just click the link below to view the Dove Mountain home sales April 2017 activity.
Play Kim's Dove Mountain Home Sales April 2017 Video Update – NOW!
For Tucson Real Estate Sales Updates for prior months, go to the Archives. For a look at the entire Tucson Real Estate Market – GO HERE!
Master Planned Community
Dove Mountain Arizona is a Master Planned Community. Dove Mountain is in the foothills of the Tortolita Mountains, just 30 minutes north of Tucson. MAP
Dove Mountain Arizona covers a vast 6,200 acres. Subdivisions offer homes for first time home buyers to the luxury homes at The Gallery, Canyon Pass and Ritz Carlton Residences. There is something for everyone in Dove Mountain Arizona.
What's To Come?
Development of the first Dove Mountain community started in 1996. Today there are now over 3,000 homes and 25 neighborhoods. New subdivisions include Los Saguaros, Del Webb at Dove Mountain and Boulder Pass. Dove Mountain is expected to grow for many years into the future.
Most subdivisions are low-density communities. The Dove Mountain master plan restricts residential building to 20% of the land.
2010 saw the opening of the Ritz Carlton Resort in Tucson. The Ritz has put Dove Mountain on the map. The resort offers spacious rooms, spa and 27 holes of golf. The hotel restaurants and nearby Clayton's provide a variety of dining options.
With state trust and natural preserve land bordering Dove Mountain creates many recreational choices.
Our Dove Mountain home sales report is one of the eight monthly updates on popular communities plus horse properties in greater Tucson, AZ. Furthermore, this update provides insight on the resale home activity in this rapidly growing area just north of Tucson AZ.
Due to the broad range of home prices and abundance of new homes being built, Dove Mountain December maybe just what you are looking for.
Finally, if Dove Mountain or another area of Tucson, AZ is on your list of future places to live, we can help!
Conclusion
Thank you for visiting www.premiertucsonhomes.com! It's one of the top real estate websites in Tucson. Our clients tell us that.
Our website provides information on communities and neighborhoods in the greater Tucson area. Want more? Give us a call – 520-940-4541. We are ready to answer your questions and help you get the information you are looking for.
We are a top Realtor duo in Tucson, AZ since 2002. Read our client testimonials. Give us a call.
We look forward to making your home buying or selling experience enjoyable YOU!
In case you missed it, here is the Foothills Sales April 2017 Report
Sign UP to receive daily HOME TRACKER UPDATES - OR - Our Monthly NEWSLETTER. And get regular updates on the Real Estate Market and events in Tucson, AZ.
Questions about the Tucson Real Estate Market or Tucson Homes for Sale? Call Us - 520 940 4541 OR complete the - CONTACT FORM - and we will get right back to you!