Why Stop At The New Drunken Chicken? —– For The Awesome Chicken!

Bringing Chicken And Waffles To 4th Avenue In Tucson, AZ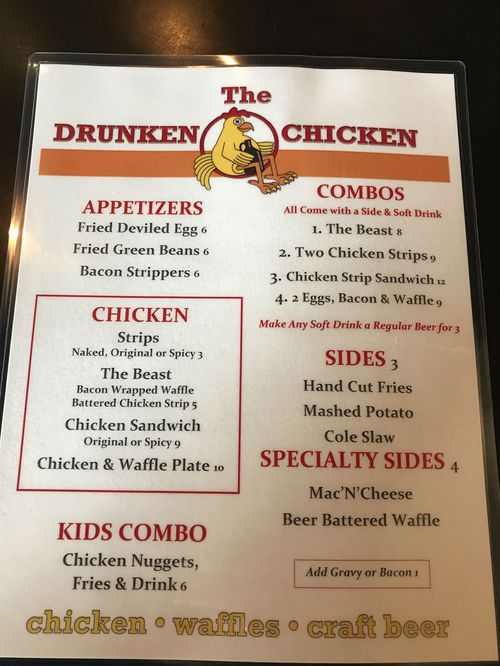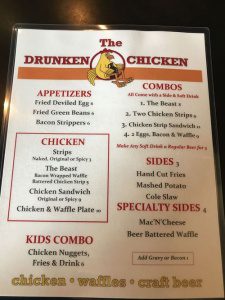 The Drunken Chicken opened its doors on August 14, 2017. A little hole in the wall restaurant on 4th Avenue.
But it is making chicken, waffles and craft beer a staple in downtown Tucson.
Who would have "thunk it Virginia?"
But now the facts
This is a SMALL place. The dining area has red brick walls and simple tables and chairs. A total of 40 seats including bar seating.
It is a basic bar that serves food. Nothing wrong with that, but know what you are getting into.
Now for the food
The menu is as small as the restaurant. ONE page. And the name Drunken Chicken what would you expect? Chicken. Chicken strips, chicken breasts, chicken sandwich.
And the "piece de resistance. Chicken and waffles. Have you figured out that Chicken is the specialty? It Is!
Now, you want some sauce? Well they have them. The bourbon syrup is addicting. Then there is the Marie Sharp's habanero pepper sauce. You want hot sauce? Grab the comatose XXXXX level hot sauce. Matches not included.
Oh, and what do chickens lay? Eggs! Try the Fried Deviled Eggs. And interesting twist on mom's party staple.
4th Avenue Evolution
The evolution of 4th Avenue continues with the Drunken Chicken. It alone with Tallboys, are bringing new places and menus to the area. Yes, burgers, tacos and pizza are still there, but now there is Chicken.
The Drunken Chicken is at 429 N. Fourth Ave. On the west side of North Fourth Avenue and south of East Sixth Street. It is open seven days a week.
Hour are –
10 a.m. to 10 p.m. Sunday through Thursday
10 a.m. until 2:30 a.m. on Fridays and Saturdays
The crowd at the 4th Avenue Street Fair are going to have another location for great food.
Considering A Home In Tucson, AZ?
Are you thinking of buying a home in the greater Tucson area? Finding the right home can be a challenging process. But we can make the process much less stressful for you.
We have been Tucson Realtors since 2002. We know Tucson and the Tucson Real Estate market. As a top Realtor team, we invest the time to understand your home buying interests and desires. At our first meeting, we will review the current real estate market with you. Show you the market data and then walk you through the Arizona home buying process.
Why? We want you to know what to expect. And what to plan for.
Interested in new construction? We'll brief you on buying a new construction home. And what's unique about the process.
For us, you are not another real estate transaction. You are a client and, future friend. We strive to create a relationship that continues long after you move into your home. Review our profiles. Check out our backgrounds, education, and certifications.
We are here to help you "know what you need to know" to buy a home in Tucson, AZ. We provide you information on Tucson events, places to shop and restaurants. Our resources include contractors, electricians, and home services. We will also help you get deals on tile and paint to make the home you buy yours. Our professional service backgrounds mean we put you first!
Thinking about selling a home in the Tucson area?
Selling a home requires more than listing it in the Tucson MLS system. It's about marketing. Marketing through multiple online channels.
To no one's surprise, 80% of home buyers start their search on the internet. Homes must be visible on multiple internet channels. The more visible a home is, the faster it will sell.
We use multiple online marketing channels to showcase your home. We will build a stand-alone website built to show your home. Our marketing program targets key cities in the U. S. based on the season. For luxury listings, our drone service provides video of your home and neighborhood. This video along with professional photos helps the online buyer see and feel in your home.
To learn more about how we can help you sell your Tucson home, call us – 520-940-4541 – to arrange a meeting. We will visit your home and prepare a comparative market analysis. Then we will meet with you to review our analysis and our marketing program to "get your home sold!"
Conclusion
Thank you for visiting www.premiertucsonhomes.com! It's one of the top real estate websites in Tucson. Our clients say that, not us.
Our website provides information on communities and neighborhoods in the greater Tucson area. Want more? Give us a call – 520-940-4541. We are ready to answer your questions and help you get the information you are looking for.
We are a top Realtor team in Tucson, AZ. Read our client testimonials. Give us a call. We look forward to making your home buying or selling a home an enjoyable experience for YOU!