El Presidio Is A Noted Tucson Historic District
Search Homes for Sale In This Central Tucson Subdivision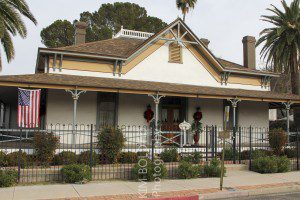 El Presidio Tucson was Tucson's first neighborhood and a key point in Tucson history. It was adjacent to the walled Spanish fort call Presidio San Agustin del Tucson.
Thus its name. It holds the distinction as the largest Presidio built by the Spaniards in North America.
The "El Presidio" refer to the fort that replaced the Tubac outpost for the Spanish in the New World.
Find El Presidio Tucson Historic District Homes For Sale
Colonel Hugo O'Connor platted the El Presidio in 1775. Spanish, Mexican, and Native American people built the facility.
A few of the homes survive on what remains of the old fort. The forts perimeter generally bordered by Church, Pennington, Washington, and Main Street.
The fort boasted of walls that were three feet thick and 12 feet high. Raised bastions at the northeast and southeast corners created a impressive site. In total the fort encompassed about 10 acres.
The population increased and ownership changed from Spanish to Mexican in 1821. However, the low, flat roofed adobe buildings in Tucson remained the same.
The Historic District
El Presidio became a historical district in 1975.
The neighborhood is about 12 blocks just north of downtown. Boundaries of the neighborhood are Sixth Street, Alameda Street, Granada Avenue anf Church Avenue.
El Presidio Tucson contains over 80 architecturally significant homes. These homes were constructed between the mid-1800's and 1912.
Many of the design characteristics found in El Presidio Tucson are also found in the Barrio and Armory Park.
The homes along Meyer Street are steeped in Spanish-Mexican influences. Thick adobe walled Sonoran row houses share walls to moderate the Tucson heat. On Main the home styles reflect an influence of the eastern U. S.
Looking for historic Tucson properties Or a home the El Presidio Tucson historic district? We can help!
Conclusion
Thank you for visiting www.premiertucsonhomes.com! It's one of the top real estate websites in Tucson. Our clients tell us that.
Our website provides information on communities and neighborhoods in the greater Tucson area. Want more? Give us a call – 520-940-4541. We are ready to answer your questions and help you get the information you are looking for.
We are a top Realtor team in Tucson, AZ since 2002. Take a minutes to read our profiles and client testimonials. Maybe we are the Tucson Realtors you have been looking for.
We look forward to making your home buying or selling experience enjoyable YOU!
Sign UP to receive daily HOME TRACKER UPDATES - OR - Our Monthly NEWSLETTER. And get regular updates on the Real Estate Market and events in Tucson, AZ.
Questions about the Tucson Real Estate Market or Tucson Homes for Sale? Call Us - 520 940 4541 OR complete the - CONTACT FORM - and we will get right back to you!
For more on the history of Tucson go to the City Of Tucson Website