San Agustin Tucson Arizona
The Presidio San Agustin del Tucson Or Fort Tucson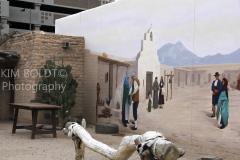 San Agustin Tucson refers to the Presidio San Agustin del Tucson or Fort Tucson. Hugo O'Conor, an Irish mercenary working with the Spanish at that time, established it in 1775.
It is believed construction of San Agustin Tucson started the following May. The Tubac soldados and their families relocated north from Tubac sometime during October of 1776.
Fort Tucson was occupied by late October or early November of 1776. The first correspondence were written from Tucson by Col. Juan Bautista de Anza in November of 1776.
San Agustin Tucson was first built with a small earthen and wooden palisade.
In 1783, after a heavy Apache attack, an eight to-twelve foot high adobe wall was constructed. The wall was 700 ft long on each side and intended to add considerably more protection from attacks.
The San Agustin Tucson fort was continually modified because of the Indian wars. As the wars continued so did the size of San Agustin Tucson. It ultimately reached a size of approximately eleven acres.
The Center Of Tucson Arizona
The land enclosed in these walls sat in what is now downtown Tucson. San Agustin Tucson would be bordered by Church Street, Washington Street, and Congress and the banks of the Santa Cruz river.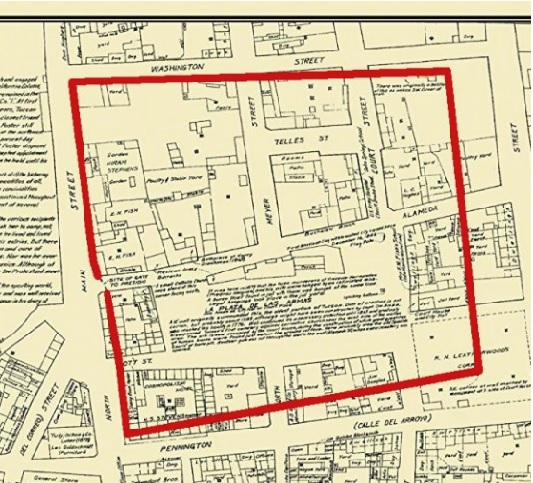 The Santa Cruz river was in fact a good size river at that time. From hills within San Agustin Tucson, one could see Sentinel Peak which is now called "A" Mountain.
El PresidoTucson was among the largest of the frontier presidios at that time. The San Agustin Tucson fort had torreons. Or Towers. The square or diamond shaped towers were then state of the are in defense. The Fort's towers allowed personal to take defense positions along the walls. Similar square or diamond shaped towers can be found on many post-1772 presidios.
The Presidio remained in use until the Americans entered Tucson in March 1856. With the Americans arrival the walls were quickly taken apart soon after. The last standing segment of the wall would be torn down in 1918.
The History Uncovered
The archaeological excavation at the San Agustin Tucson site was completed in early 2006.
Today, a re-creation of the original San Agustin Tucson offers a self-guided tours of what once was. The tour shows many of the features of the early fort including a ordnance room, the towers, commissary, and living space for soldiers and their families.
Considering A Home In Tucson, AZ?
Are you thinking of buying a home in the greater Tucson area? Finding the right home can be a challenging process. But we can make the process much less stressful for you.
We have been Tucson Realtors since 2002. We know Tucson and the Tucson Real Estate market. As a top Realtor duo, we invest the time to understand your home buying interests and desires.
At our first meeting, we will review the current real estate market with you. Show you the market data and then walk you through the Arizona home buying process.
Why? We want you to know what to expect. And what to plan for.
Interested in new construction? We'll brief you on buying a new construction home. And what's unique about the process.
For us, you are not another real estate transaction. You are a client and, future friend. We strive to create a relationship that continues long after you move into your home. Review our profiles. Check out our backgrounds, education, and certifications.
We are here to help you "know what you need to know" to buy a home in Tucson, AZ. We provide you information on Tucson events, places to shop and restaurants. Our resources include contractors, electricians, and home services.
But most important, our professional service backgrounds mean we put you first!
Thinking About Selling Your Home In The Greater Tucson Area?
Selling a home requires more than listing it in the Tucson MLS system. It's about marketing. Marketing through multiple online channels.
To no one's surprise, 80% of home buyers start their search on the internet. Homes must be visible on multiple internet channels. The more visible a home is, the faster it will sell.
And the photos on the mls make a difference. You can spend lots of money on home staging, but if the photos aren't great it doesn't matter. Staging and stunning photos make it all come together.
We use multiple online marketing channels to showcase your home. We will build a stand-alone website built to show your home. Our marketing program targets key cities in the U. S. based on the season.
For luxury listings, our drone service provides video of your home and neighborhood. This video along with professional photos helps the online buyer see and feel your home. Their "new" home.
To learn more about how we can help you sell your Tucson home, call us – 520-940-4541 – to arrange a meeting. We will visit your home and prepare a comparative market analysis.
Then we will meet with you to review our analysis. We will go over our Comparative Market Analysis for your home in detail. And the review our marketing program to "get your home sold!"
Conclusion
Thank you for visiting www.premiertucsonhomes.com! It's one of the top real estate websites in Tucson. Our clients tell us that.
Our website provides information on communities and neighborhoods in the greater Tucson area. Want more? Give us a call – 520-940-4541. We are ready to answer your questions and help you get the information you are looking for.
We are a top Realtor duo in Tucson, AZ since 2002. Read our client testimonials. Give us a call. We look forward to making your home buying or selling a home an enjoyable experience for YOU!
Sign UP to receive daily HOME TRACKER UPDATES - OR - Our Monthly NEWSLETTER. And get regular updates on the Real Estate Market and events in Tucson, AZ.
Questions about the Tucson Real Estate Market or Tucson Homes for Sale? Call Us - 520 940 4541 OR complete the - CONTACT FORM - and we will get right back to you!