Tucson's Desert Landscapes and Stunning Mountain Backdrops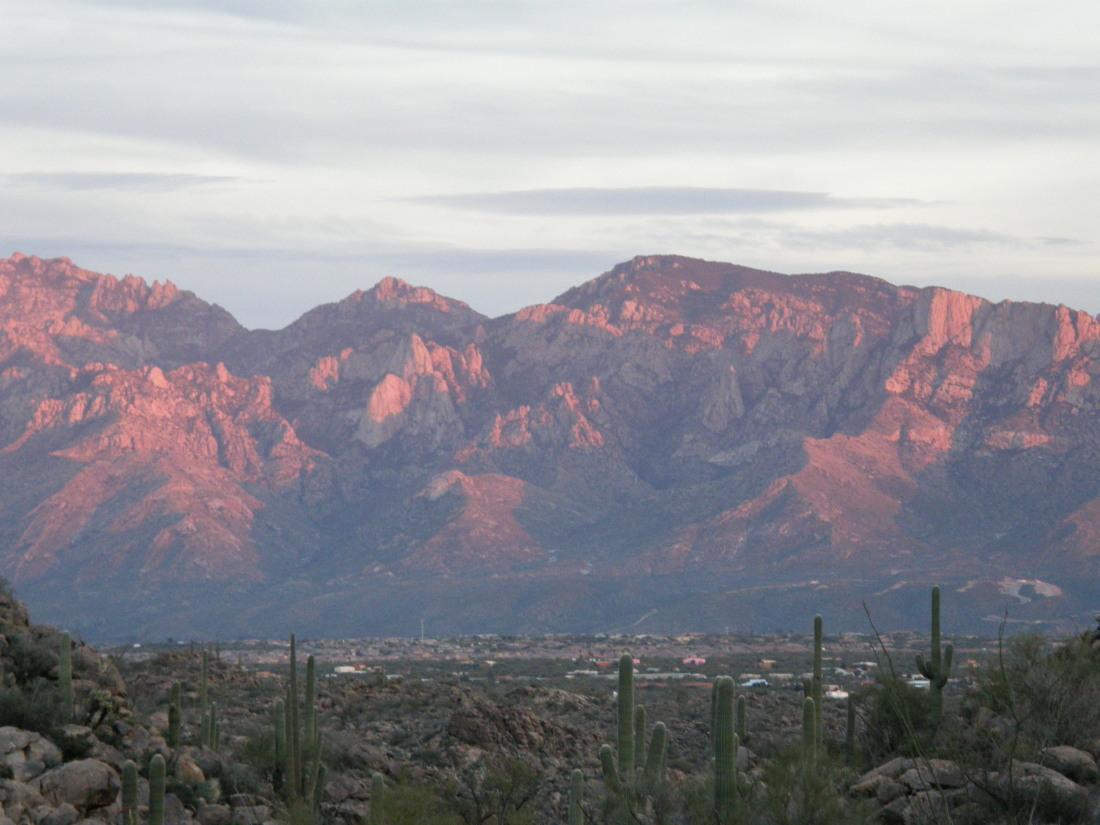 Tucson, Arizona, is a city surrounded by natural beauty.
There is no lack of outdoor things to enjoy, from the gorgeous saguaro cactus that dot the terrain to the steep mountains surrounding the city. Tucson offers something for everyone, whether you like hiking, bird watching, or just exploring the great outdoors.
In this article, we will go over some of the natural beauty of Tucson that you shouldn't miss.
Saguaro National Park
Saguaro National Park shows the natural beauty of Tucson like no other place. It is an excellent site to begin your tour of Tucson's natural splendor. It is also the best place to go to that we can think of this spring. This park is home to the world's biggest cactus, the saguaro. These cacti may reach 60 feet and survive for more than 200 years. Other flora and animals in the park include the Gila monster, desert tortoise, and roadrunner. The park has various hiking paths, including the famed Douglas Spring Trail, which winds through stunning desert terrain.
Tohono Chul Park
Tohono Chul Park is a terrific destination because of the variety of activities it offers visitors. The park is both a wildlife preserve and a botanical garden and museum.
The park's address is 7366 N Paseo Del Norte, and it features a sizable parking lot with lots of available spots whenever you decide to visit. The gardens are a great location to go if you need some peaceful time.
You can spot a wide variety of hummingbirds and butterflies in the gardens simply by walking about.
The Garden Bistro is outside the park's main entrance if you get hungry. In addition to the hummingbird garden, there is the riparian ecosystem, the children's garden, the Sonoran Seasons garden, the desert palm oasis, and the Spanish colonial courtyard.
You may find beautiful panoramas of Tucson and the Sonoran Desert from the vantage points of three different nature trails: the Saguaro Discovery Trail, the South Loop Trail, and the Desert View Trail.
Sabino Canyon
Sabino Canyon is another excellent location for exploring the natural beauty of Tucson. This canyon in the Santa Catalina Mountains is home to a diverse range of flora and animals. Hiking and picnics are among the common activities in the canyon.
The Sabino Canyon Tram Road is an excellent method to observe the canyon and is suitable for visitors of all ages and abilities. The tram takes you on a guided canyon tour, allowing you to appreciate the region's natural beauty from a new viewpoint.
This place is the one that will make you hire interstate movers for moving from CA to AZ. If you decide to move, get in touch with experts who can make your moving experience more pleasant.
Tucson Audubon Society's Mason Center
The Tucson Audubon Society's Mason Center is a must-see if you like birding. This facility, situated on the Santa Cruz River's banks, is home to a vast diversity of bird species and is where you will surely experience the natural beauty of Tucson.
The center also offers several educational activities and events throughout the year, such as bird walks and birding workshops.
Mount Lemmon Scenic Byway
Take a trip along the Mount Lemmon Scenic Byway if you want to get out of the city and enjoy some beautiful scenery. One of the best things to do in the area, this trail begins about 15 miles outside of Tucson.
This 27-mile one-way route on the Catalina Highway winds its way up the Santa Catalina Range, exposing travelers to a wide variety of habitats in a very short length of time. Incredible panoramas of the hills and mountains may also be seen from here.
From the cactus-covered desert floor at the bottom to towering pine trees, babbling streams, and stunning lakes at the top, this journey provides a welcome respite from Tucson's summer heat. Summerhaven, a tiny village, is at the summit.
While in town, you might want to try out the Mount Lemmon Cookie Cabin, a local institution where locals and visitors go for their famously enormous cookies, ice cream, and pizza.
The Loop

A bike ride on the Loop is another fantastic way to enjoy Tucson's natural splendor. The Loop is a shared-use trail network connecting many parks and natural areas in Tucson. It is an excellent method to get a new view of the city and its surroundings.
The Loop provides something for everyone, whether you're a seasoned cyclist or simply want to enjoy a leisurely bike ride.
Tumamoc Hill
One of the best places to go trekking in Southern Arizona is a protected area called Tumamoc Hill. There are few trees along this three-mile hiking path, allowing you to view for miles while you climb 738 feet in height.
After climbing to the peak, you can see all of Tucson's environs spread out before you. Arizona is such a great place for families because of the nature to explore and enjoy. Not many places have so much nature to give.
Keep in mind that this hiking trip is moderately strenuous, so pack lots of water. A hiking trail is west of Tucson's downtown, on the slopes of Sentinel Peak. Maybe you also want to check out A-mountain, an important part of history in Tucson.
Hikers typically take between 1 and 1.5 hours to complete this route. The walkway is free to travelers and available every day from 4:00 AM to 10:00 PM. Parking is available at the trailhead, located at the end of West Anklam Rd.
Carefully pull off the road into the shoulder just before the trailhead.
A Balloon Flight
Finally, if you want to experience Tucson's natural splendor in a novel manner, try taking a hot air balloon flight. Numerous firms in the neighborhood provide hot air balloon trips, and the views from the balloon are simply stunning.
You'll get to observe the city and surrounding area from a different angle, and it'll be an experience you won't forget.
Wrapping Up

To summarize, Tucson is a city that provides a broad range of outdoor activities for exploring the area's natural splendor. There is something for everyone, from trekking in Saguaro National Park to birding at the Tucson Audubon Society's Mason Center.
Tucson offers something for everyone, whether you're a nature enthusiast or simply seeking a new way to enjoy the outdoors. You'll want to return to it because of the natural beauty of Tucson and its magnificent natural settings, welcoming people, and numerous options for adventure.
The Above Article Is A Guest Post
By the way, for more information on enjoying the outdoors, take a read of…… How To Enjoy US National Parks.
Conclusion

Thank you for visiting www.premiertucsonhomes.com! It's one of the top real estate websites in Tucson. Our clients tell us that.
Our website provides information on communities and neighborhoods in the greater Tucson area. Want more? Give us a call – 520-940-4541. We are ready to answer your questions and help you get the information you are looking for.
We are a top Realtor duo in Tucson, AZ since 2002. Read our client testimonials. Give us a call. We look forward to making your home buying or selling experience enjoyable YOU!
Sign UP to receive daily HOME TRACKER UPDATES - OR - Our Monthly NEWSLETTER. And get regular updates on the Real Estate Market and events in Tucson, AZ.
Questions about the Tucson Real Estate Market or Tucson Homes for Sale? Call Us - 520 940 4541 OR complete the - CONTACT FORM - and we will get right back to you!