Mt Lemmon Camping Above Tucson AZ
Seven Locations On The Way From Tucson

Scenic Trip To Mt Lemmon Camping Sites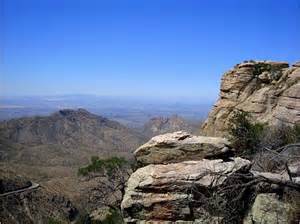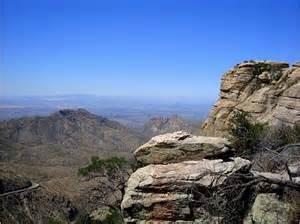 Mt Lemmon camping is available at 7 campsites along the General Hitchcock Highway on the trip from Tucson AZ to Summerhaven. The General Hitchcock Highway ( also know as the Catalina Highway) is considered one of the most scenic drives in the Southwest.
The road is also identified as the Sky Island Scenic Byway nationally and recognized by the National Forest and the State of Arizona.
Beginning at Tanque Verde Road and Catalina Highway, the 28 mile trip climbs more than 6,000 feet up the Catalina Mountains. The trip provides numerous overlooks, turnouts and picnic areas in addition to 7 campsites.
Interestingly, during the days of the cold war, the high altitude location was home to long range radar units that constantly scanned the skies for aircraft and missiles.
Today, the 61 inch telescope of the Steward Observatory works to find celestial targets. The observatory was instrumental in mapping the lunar surface in preparation for the first moon landing. Steward Observatory along with Kitt Peak are popular attractions in Southern Arizona.
Mount Lemmon camping is most popular during the summer months from April to October. The high altitudes provide cooler temperatures along with the scenic views.
Mt Lemmon Camping Locations
Mt Lemmon camping is available at the following campsites. There are fees required to use them.
Molino Basin Campground – This is the first campsite on the way up and is at an elevation of 4,370 ft. There are 37 camping units along with 3 picnic areas and restrooms. There is NO potable water available, so bring some along.
Gordon Hirabayashi Recreation Site – At 4,820 ft. this site was once a prison camp during World War II. It is the site were Gordon Kiyoshi Hirabayashi was held. Hirabayashi brought a law suit against the government over the internment of Japanese U.S. Citizens.
In 1999, the Coronado National Forest in Arizona renamed the former Catalina Honor Camp in Hirabayashi's honor. The site, ten miles east of Tucson, where Hirabayashi had served out his sentence of hard labor in 1942, is now known as the Gordon Hirabayashi Recreation Site. There is NO potable water available, so bring some along.
General Hitchcock Campground – This Mt Lemmon camping area sits at 5,920 ft. and has 11 camping units. There is NO potable water available, so bring some along.
Rose Canyon Campground – At an eleveation of 7,200 ft, this Mt Lemmon camping area has 75 camping units restrooms and fishing. There is potable water at this campsite. Open April to October.
Showers Point Group Site – Is at an elevation of about 8,000 ft. This site along the Sky Island Scenic Highway is by reservation ONLY. Open from April to October.
Whitetail Group Site – At about 8,350 ft. has 5 group sites with ramades, water and electricity. Reservations ONLY. Open April to October.
Spencer Canyon Campground – At 8,630 ft. provides 62 camping units with restrooms and potable water. Open April to October.
Other things to see along the way –
Grand, rocky cliffs with spectacular views over the arid desert
Large populations of the towering saguaro cacti
Many unusual rock formations, or hoodoos, including the Geology Vista and Goosehead Rock
Ruins of the old WWII internment camps
The skyride at the Mt Lemmon and the beautiful aspen-forests at mountain-top
Popular pastimes, including: rock climbing, horseback riding, skiing, camping at Rose Canyon Campground, and hiking or fishing at Rose Canyon Lake
Retail shopping and relaxing in Summerhaven, AZ – at the end of the route, located in a higher altitude and conifer forest
Conclusion
For those looking for a few nights in the great outdoors with warm sunny days and cool evenings, Mt Lemmon camping should on your "things to do in Tucson" list.
The trip is a unique experience with fantastic views, photo opps and an exciting drive.
Thank you for visiting www.premiertucsonhomes.com! It's one of the top real estate websites in Tucson. Our clients tell us that.
Our website provides information on communities and neighborhoods in the greater Tucson area. Want more? Give us a call – 520-940-4541. We are ready to answer your questions and help you get the information you are looking for.
We are a top Realtor duo in Tucson, AZ since 2002. Read our client testimonials. Give us a call. We look forward to making your home buying or selling experience enjoyable YOU!
If you are considering a move to Tucson for a new job, winter get away or that special place to retire, we can help.
Sign UP to receive daily HOME TRACKER UPDATES - OR - Our Monthly NEWSLETTER. And get regular updates on the Real Estate Market and events in Tucson, AZ.
Questions about the Tucson Real Estate Market or Tucson Homes for Sale? Call Us - 520 940 4541 OR complete the - CONTACT FORM - and we will get right back to you!