Northwest Medical Center Tucson AZ
Meeting The Healthcare Needs Of Tucson AZ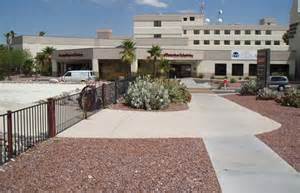 Northwest Medical Center is one of the larger community hospitals and healthcare providers in Tucson AZ. The Northwest Medical Center facility at La Cholla and Orange Grove is a 300-bed facility.
NMC provides comprehensive inpatient and outpatient services. Patient services include emergency care, heart and stroke care, weight-loss surgery and spine and joint programs.
In total, there are over thirty five medical specialties offered at the main facility.
Northwest Medical Center has a staff of over 640 doctors that are supported by a team of healthcare professionals.
NMC offers a healthcare facility focused solely on women's medical needs. It was Arizona's first freestanding, self-contained medical facility for women.
Northwest Medical Center Operates Six Urgent Care Centers In Tucson AZ
Each urgent care center meets the needs of individuals needing a primary care provider when theirs regular physican can't be scheduled. For example during the evening or on a weekend when the office isn't open?
Northwest Urgent Care offers six convenient urgent care centers throughout the Tucson area. Each urgent care center is staffed with on-site physicians and registered nurses. Appointments are not necessary and all patients are seen on a walk-in basis.
Urgent Care Centers
Urgent care facilities operated by Northwest Medical Center include;
Northwest Urgent Care at Orange Grove
6200 N La Cholla Blvd – MAP
Tucson, AZ 85741
(520) 742-9000
Rancho Vistoso Urgent Care
13101 N Oracle Rd – MAP
Tucson, AZ 85739
(520) 818-2000
La Paloma Urgent Care & Physician Offices
4001 E Sunrise Dr (Sunrise at Hacienda del Sol Road) – MAP
Tucson, AZ 85718
(520) 209-7000
Continental Reserve Urgent Care
8333 N Silverbell Rd – MAP
Tucson, AZ 85743
(520) 202-7700
Northwest Urgent Care at Duval Mine Road
1295 W. Duval Mine Road – MAP
Green Valley, AZ 85614
(520) 399-2027
Northwest Urgent Care At Speedway
1370 N. Silverbell Road (Silverbell at Speedway) – MAP
Suite 170
Tucson, AZ 85745
(520) 205-8950
The main healthcare facilities, clinics and hospital are located at
6200 North LaCholla Blvd
Tucson, AZ 85741
520-742-9000
MAP
If you are considering a move to OR from Tucson AZ, we can help.
Conclusion
Thank you for visiting www.premiertucsonhomes.com! It's one of the top real estate websites in Tucson. Our clients tell us that.
Our website provides information on communities and neighborhoods in the greater Tucson area. Want more? Give us a call – 520-940-4541. We are ready to answer your questions and help you get the information you are looking for.
We are a top Realtor duo in Tucson, AZ since 2002. Read our client testimonials. Give us a call.
We look forward to making your home buying or selling experience enjoyable YOU!
By the way, if you want to see homes for sale in Tucson use this easy Property Search.
Sign UP to receive daily HOME TRACKER UPDATES - OR - Our Monthly NEWSLETTER. And get regular updates on the Real Estate Market and events in Tucson, AZ.
Questions about the Tucson Real Estate Market or Tucson Homes for Sale? Call Us - 520 940 4541 OR complete the - CONTACT FORM - and we will get right back to you!