Don't Forget to Plan for Your Pet When Moving

Make It A Stress Free Move For Everyone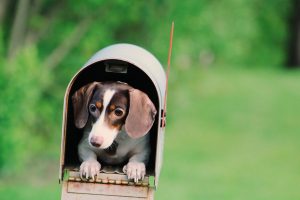 Moving with a pet is a challenge that comes with additional expenses. Make sure to budget for these, as well as extra travel time, especially if you're moving across state lines.
Premier Tucson Homes offers up a bit of additional advice to help you make your move from there to here with ease, even when you've got a houseful of pets and no experience moving.
Planning Ahead
If you've yet to begin your home search, now's the time to make a list of everything you need for your family and pets. You already know how many bedrooms and baths you need, but you must also plan for a fenced yard, which is crucial given the prevalence of coyotes and other predators in the area.
You can have a fence installed after closing, but keep in mind that this is an added expense (although some contractors offer discounts if you're willing to pay ahead), and it might take days or weeks.
Read reviews and schedule a meeting to discuss capabilities, timing, and price before you move ahead with your fencing plans.
To Do List…
Something else to put on your to-do list: Contact your veterinarian.
In addition to a full health screening to ensure they are safe enough to travel, your vet can also talk to you about what to do about motion sickness.
Many dogs, especially puppies younger than one year, can experience vomiting and diarrhea in a moving vehicle. This is the last thing you want during an already stressful time.
When you are touring homes, don't assume that you can bring your pet with you. Be courteous to the current homeowner, and have your realtor confirm that it's okay ahead of time.
Moving Day and Beyond
Now that you have your house picked out, your dog examined, and motion sickness stopped before it starts, you can focus on moving day. If you think it's stressful on you, your dog has no idea what's coming.
If possible, visit the home ahead of the movers. This will give your dog a bit of time to explore without the distraction of new people coming in and out. You might also want to arrange for a dog walker or pet sitter who's familiar with the area and gets great reviews for reliability.
Help your pet settle in by bringing along his pet bed. You'll also want to make sure he's got many of his favorite toys and a familiar food bowl — although it's typically best to feed them on the light side during the big event.
Another important step toward making moving day less stressful is to keep your dog on their regular schedule. Even if you are moving into a new time zone, try to stay consistent with their feeding, exercise, and playtime routines.
At Your New Home
As you begin to get out and about in your new neighborhood, keep your dog on a leash. Remember, they may be overwhelmed by new sites, sounds, and scents and might get the urge to wander away.
BayDog offers tips on how to introduce your dog to new people and stresses that staying calm and being cautious around children is crucial.
The actions you take before and during a big move have a significant impact on you and your pets. So make sure to plan ahead so that you can get through all of the inevitable challenges.
Start by knowing what you're walking into, especially if you're moving to a new area that may have potential dangers you're not used to.
If you still have questions, your buying agent can help you sort the details and may even have a few great recommendations on dog parks and other fun local activities to do with your entire family.
Ben and Kim Boldt are some of the most experienced real estate agents in the Tucson area. This husband-and-wife team will put their expertise to work for you. Give them a call today at 520.940.4541.
The Above Guest Articular Provided by………. Cindy Aldridge – www.ourdogfriends.org
Conclusion
It is estimated that about 70% of American own at pet. That means lots of pets are on the move every year. If you own a pet and are planning to move, here is additional information to help you plan for moving your pets…...TAKE A LOOK!
Looking for more considerations about moving with your pets? Check out this handy Guide With Tips.
Are you thinking of buying a home in the greater Tucson area? Finding the right home can be a challenging process. But we can make the process much less stressful for you.
We have been Tucson Realtors since 2002. We know Tucson and the Tucson Real Estate market. As a top Realtor duo, we invest the time to understand your home buying interests and desires.
At our first meeting, we will review the current real estate market with you. Show you the market data and then walk you through the Arizona home buying process.
Why? We want you to know what to expect. And what to plan for……..including your pets!
Thank you for visiting www.premiertucsonhomes.com! It's one of the top real estate websites in Tucson. Our clients tell us that.
Our website provides information on communities and neighborhoods in the greater Tucson area. Want more? Give us a call – 520-940-4541. We are ready to answer your questions and help you get the information you are looking for.
We are a top Realtor duo in Tucson, AZ since 2002. Read our client testimonials. Give us a call. We look forward to making your home buying or selling experience enjoyable YOU!
Sign UP to receive daily HOME TRACKER UPDATES - OR - Our Monthly NEWSLETTER. And get regular updates on the Real Estate Market and events in Tucson, AZ.
Questions about the Tucson Real Estate Market or Tucson Homes for Sale? Call Us - 520 940 4541 OR complete the - CONTACT FORM - and we will get right back to you!
By the way, here are some helpful tips if you are Moving With Children.