Backyard Pools Or No Pools, That Is The New Greatest Question
Living In Southern Arizona Means 350 Days Of Sunshine And Pools – But Is A Pool For You?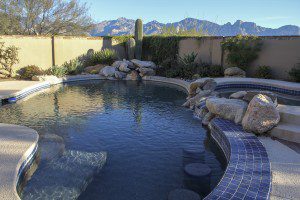 Moving to Arizona? I mean Southern Arizona. If so, a big question when buying a home is should you look for homes with backyard pools?
Owning a home in Arizona creates images of homes with beautiful backyard pools. Sunny days spent splashing around in a cool, refreshing backyard pool. At least during the summer months.
For full-time residents, homes with backyard pools may even be an essential item. Snowbirds, on the other, are less inclined to want a pool.
Backyard pools are a luxury for some, and a necessity for others. There are two big choices if you want a home with a backyard pool. Buy a home with a backyard pool already installed. Or have the home pool designed and built after you find your "perfect" home.
See Tucson Homes For Sale With Pools
Is there are "right" choice. Well, as with many home buying decisions, it all depends.
Here are some of the pros and cons to help you decide what is better for you.
Backyard Pools For Recreation
Backyard pools are a great way to get exercise for adults and children.
PROS:
The added benefit is the no impact exercising experience.
Kids and adults alike, enjoy playing and relaxing around a swimming pool. Summer time pool parties or a late-night swim is always enjoyable when you own your own pool.
CONS:
Swimming pools can be dangerous for children if they don't know how to swim. Most conventional inground home pools are only 5 feet deep at most. Unless you have a pool with a diving board will be 8 to 10 feet deep.
Owning a swimming pool means you will need to have the proper safety features installed. Fencing around the pool with locks on the gates.
Without the fencing, childproof locks on the doors leading to the pool area should be installed. Pool barriers restrict children, neighbors, and pets from accidentally falling into the pool.
Arizona has a pool barrier law that every home buyer should be aware of. Ask your Realtor to review the Arizona's Pool Barrier Laws with you.
Even in Southern Arizona, to use a swimming pool all year means it needs to be heated. Heated pools are great. But heating backyard pools can cost at $1000/month or more.
A good option is solar. Coils can be installed on the roof of the house to heat the pool water. The solar heated water is circulated to the pool through the pool pump. Solar can add 3 to 4 months a year of "comfortable" swimming.
The Costs Of A Backyard Pool
Backyard pools are a cost, not an investment. At least not a monetary investment with a big return.
PROS:
Having a swimming pool installed is affordable. Although it is hard to get a reasonably sized pool built for less than $25,000.
One benefit to spending that money, beyond the fun you will have in the pool, is in home resale. But don't think you will get all your money back. A home with a pool will be more attractive to a buyer wanting a home with a backyard pool, than a home without a pool.
But buying a home that has a pool is cheaper than having one installed later.
CONS:
When selling your home, don't expect to recover the costs of building a pool. If it costs $50,000 to have a pool installed, you cannot add $50,000 on to the asking price of your home. With or without a pool, pricing a home for resale must be consistent with the current real estate market in your area.
Backyard Pool Maintenance
A backyard swimming pool requires time, chemicals and pool care knowledge.
Ok, the pool boy didn't go to Harvard to learn how to care for pools. But licensed pool maintenance companies have had some training. So they know a bit more about caring for a pool than most homeowners.
PROS:
Many swimming pool owners take the time to learn about pool maintenance. Pool supply companies will help you understand what you need to know.
So, keeping your pool pristine isn't rocket science. But it will take some time. If you plan on buying a home with a pool, do a little research to determine if you want to do it.
If you don't, you can hire someone for $80 to $125 per month.
CONS:
If you don't take care of your pool, health and safety issues can arise. The proper chemicals keep the water PH levels accurate. Improper care may to algae and other bacteria forming in the pool
Green has never been never a good color in a swimming pool.
How To Decide
Backyard pools can be a great feature for many Tucson homeowners. With a little research, you can decide if the costs of a backyard pool make sense to you.
Do your homework on the front end. Ask your Realtor to show you the comparable homes with and without pools before you buy.
In the end, it will be up to you to determine if owning a swimming pool home is right for your family.
Pools can be a unique home feature or an essential one based on a home's price point and neighborhood. The more expensive the home the more likely it will have or should have a pool.
Considering A Home In Tucson, AZ?
Are you thinking of buying a home in the greater Tucson area? Finding the right home can be a challenging process. But we can make the process much less stressful for you.
We have been Tucson Realtors since 2002. We know Tucson and the Tucson Real Estate market. As a top Realtor team, we invest the time to understand your home buying interests and desires. At our first meeting, we will review the current real estate market with you. Show you the market data and then walk you through the Arizona home buying process.
Why? We want you to know what to expect. And what to plan for.
Interested in new construction? We'll brief you on buying a new construction home. And what's unique about the process.
For us, you are not another real estate transaction. You are a client and, future friend. We strive to create a relationship that continues long after you move into your home. Review our profiles. Check out our backgrounds, education, and certifications.
We are here to help you "know what you need to know" to buy a home in Tucson, AZ. We provide you information on Tucson events, places to shop and restaurants. Our resources include contractors, electricians, and home services. We will also help you get deals on tile and paint to make the home you buy yours. Our professional service backgrounds mean we put you first!
Conclusion
Thank you for visiting www.premiertucsonhomes.com! It's one of the top real estate websites in Tucson. Our clients say that, not us.
Our website provides information on communities and neighborhoods in the greater Tucson area. Want more? Give us a call – 520-940-4541. We are ready to answer your questions and help you get the information you are looking for.
We are a top Realtor team in Tucson, AZ. Read our client testimonials. Give us a call. We look forward to making your home buying or selling a home an enjoyable experience for YOU!
Sign UP to receive daily HOME TRACKER UPDATES - OR - Our Monthly NEWSLETTER. And get regular updates on the Real Estate Market and events in Tucson, AZ.
Questions about the Tucson Real Estate Market or Tucson Homes for Sale? Call Us - 520 940 4541 OR complete the - CONTACT FORM - and we will get right back to you!