Rincon Mountains

One of 5 Tucson Mountain Ranges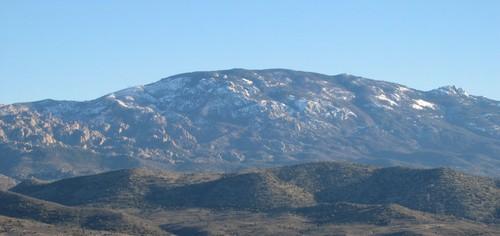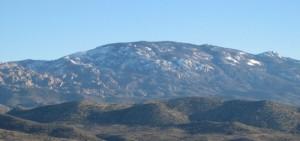 The Rincon Mountains are a major mountain range southeast of Tucson Arizona. The Rincon mountains are one of the 5 mountain ranges in the Tucson area. The others include the Santa Catalina Mountains, the Santa Rita Mountains, the Tucson Mountains, and the Tortolita Mountains.
Rincón is Spanish for "corner". It describes the primary shape of the mountain range. The highest point in the mountain range is Mica Mountain. This peak is 8,664 feet high and the high-point of the range. Rincon Peak is the southern most peak. It is at 8,482 feet. Tanque Verde Peak establishes the western point of the corner.
Redington Pass divides the Rincon Mountains from the Santa Catalina Mountains. The Rincon Mountains are less rugged than either the Santa Catalina Mountains or the Santa Rita Mountains. The Rincon Mountains are part of the Madrean sky island mountain ranges. These ranges run from southeast Arizona to southwest New Mexico and northern Sonora Mexico.
Inside the "corner" is the Rincon Valley. This land was former ranch land. Much of this land is used to build tract housing.
Colossal Cave
A popular attraction in the area is Colossal Cave park. It is a limestone cave located on the east end of the Rincon Valley. Colossal Cave is located just north of of Vail, Arizona.
East of the Rincons Mountains are the Little Rincon Mountains. Sitting between these two ranges is Happy Valley. Happy Valley is a popular place for camping, hunting, and hiking.
South of the Rincon mountains range is the Cienega Creek and interstate highway 10.
Almost all Rincon Mountains are within Saguaro National Park or the Coronado National Forest.
Review Tucson Homes for Sale with Views of the Rincon Mountains
Many Vail Homes for Sale will have views of the Rincon Mountains. Looking for a home in Vail Arizona? We can Help!
Conclusion
Thank you for visiting www.premiertucsonhomes.com! It's one of the top real estate websites in Tucson. Our clients tell us that.
Our website provides information on communities and neighborhoods in the greater Tucson area. Want more? Give us a call – 520-940-4541. We are ready to answer your questions and help you get the information you are looking for.
We are a top Realtor duo in Tucson, AZ since 2002. Read our client testimonials. Give us a call. We look forward to making your home buying or selling experience enjoyable YOU!
Sign UP to receive daily HOME TRACKER UPDATES - OR - Our Monthly NEWSLETTER. And get regular updates on the Real Estate Market and events in Tucson, AZ.
Questions about the Tucson Real Estate Market or Tucson Homes for Sale? Call Us - 520 940 4541 OR complete the - CONTACT FORM - and we will get right back to you!
By the way, another feature of Tucson is Banner – University Medical Center