Great SaddleBrooke Golf Courses
Three Outstanding Courses With Daily Fee Play Available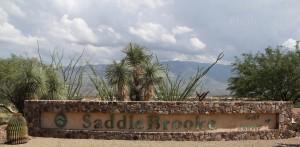 SaddleBrooke golf is available in both SaddleBrooke and SaddleBrooke Ranch. These two Robson Resort Communities about ten miles north of Oro Valley AZ in the Northwest area of Tucson, Arizona.
Both SaddleBrooke and SaddleBrooke Ranch are 55+ Adult Communities. With the emphasis on "Active"! Another Robson Resort Community is Quail Creek. Quail Creek is in Green Valley, AZ.
Green Valley, AZ is 20 miles south of Tucson, AZ on I-19.
See SaddleBrooke Home Floor Plan For Your Lifestyle
Find A Home In SaddleBrooke Ranch
Pick A SaddleBrooke Ranch Home Floor Plan To Suit Your Lifestyle
8 Things To Know BEFORE You Enter The New Home Builders Model Homes and Sales Office
It is important for you to understand
You have the right to be represented by a Realtor when buying a new construction home.
BUT your Realtor

MUST

be with you on your

FIRST

visit to the new home builder's sales office and register you!
You will not pay more to have US represent you when buying a new construction home in Tucson, AZ.
If you don't have a Realtor with you on your first visit – KNOW THIS
The sales agent at the builder's sales office works for the builder,

NOT YOU!

They will ask you to "register" when you come in – or shortly after.
If you register, you are

GIVING UP YOUR RIGHT

to be represented by a Realtor at that builder's site in the future.
Chances are the builder's sales agent

WILL NOT

disclose this to you!
If you register at the builder's site, you are on your own to work through the builder's contract and all purchase decisions. Yes, the builder's sales agent will work with you through the paperwork. They will answer your questions.

BUT

with who in mind? You or the builder they work for? Will they tell you there are homes for sale with the floor plan you want that may be less than it will cost you to build it?
Now to the SaddleBrooke golf experiences
SaddleBrooke golf provides 63 holes of great golf along with views of the northernmost ridge of the Catalina Mountains. OMG!
Saddlebrooke Golf Club is the original golf course in Saddlebrooke Tucson and a members only club. The overall layout has 3 nine hole courses (SaddleBrooke, Tucson & Catalina). This provides members three different 18-hole combinations to play on any given day.
The Mountain View Course is the second beautiful eighteen hole course in SaddleBrooke. This Saddlebrooke Golf Course meanders through the Saddlebrooke community. It was designed to blend in with the high desert habitat that encompasses Saddlebrooke. It is open to residents and the public.
The Preserve Golf Club is the most recent 18 hole course in Saddlebrooke. It opened as of August 2004. "The Preserve" may be the gem of Saddlebrooke Golf. It is open to residents and the public.
The layout runs along the ridges of the western foothills of the Santa Catalina Mountains. The topography creates challenging shot making. The Preserve makes full use of the rolling desert ridges and deep arroyos. Fairways tilt and roll with the lay of the land. The visual effects of the elevation changes are dramatic.
The latest addition to the Saddlebrooke Golf experience is the Saddlebrooke Ranch Golf course. This course is very open and player friendly. The front nine plays relatively easy with no real "danger" to avoid. The back nine is the challenge. Washes cross the fairways making distance knowledge a must. It is open to residents and the public.
Conclusion
Thank you for visiting www.premiertucsonhomes.com! It's one of the top real estate websites in Tucson. Our clients say that, not us.
Our website provides information on communities and neighborhoods in the greater Tucson area. Want more? Give us a call – 520-940-4541. We are ready to answer your questions and help you get the information you are looking for.
We are a top Realtor team in Tucson, AZ. Read our client testimonials. Give us a call. We look forward to making your home buying or selling a home an enjoyable experience for YOU!
Looking for Real Estate in Tucson AZ OR Tucson Retirement Communities? We can help!
Sign UP to receive daily HOME TRACKER UPDATES - OR - Our Monthly NEWSLETTER. And get regular updates on the Real Estate Market and events in Tucson, AZ.
Questions about the Tucson Real Estate Market or Tucson Homes for Sale? Call Us - 520 940 4541 OR complete the - CONTACT FORM - and we will get right back to you!
For more on Tucson Golf and Tucson Golf Course Use This Tucson Golf Link
[sq_pop_shortcode popup_id="6009446″ appear_position="pop_top_right" appear_behavior="pop_on_exit" appear_behavior="pop_on_exit" background_color="pop_bg_transparent" display_area="pop_display_particular" background_cover="pop_cover_no" frequency="once" delay="0″ ]