Southwest Decor From Furniture To Accessories

Tips For That Perfect Southwest Style

We're big fans of all things that create a southwest decor. From furniture to room accessories and art. Each room needs a focal point.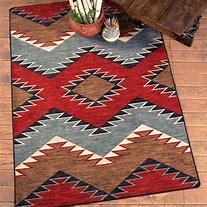 And rugs, pillows and art are essential. But finding the right rug for your main living area will "set the stage" for the rest of your home .
If you are starting with a blank slate, the task is easier. Pick a rug that complements the color of the flooring and build on it.
The task is more difficult when the home has furniture and paint.
Rug patterns can be complex and it can hard to find a rug that matches the other pieces of furniture.
But when you find the right one, don't hesitate. Buy it!
Southwest decor for the master bedroom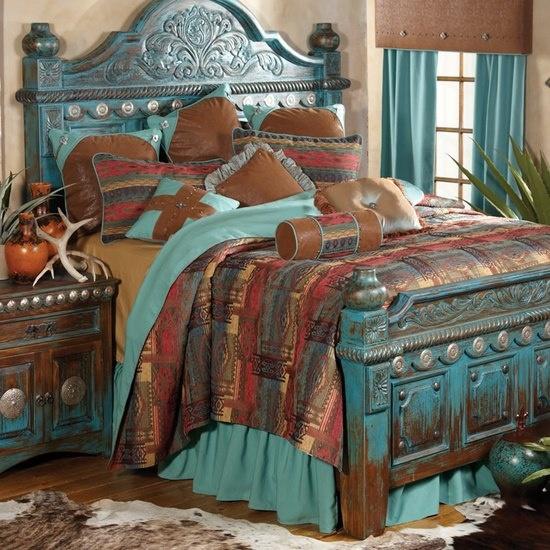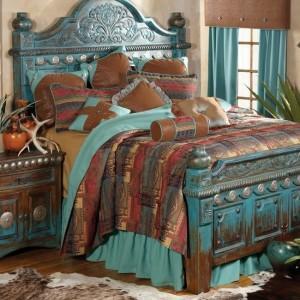 The master bedroom is the most personalized area in a house. So what colors can be used in a Southwest Decor and provide a relaxing master bedroom area?
Let the colors you love provide your Arizona interior design. However, here are a few guidelines to keep in mind in your bedroom decorating ideas.
Today's master bedroom suites tend to be typically larger than the other bedrooms in a home. The extra space will make most southwest decorating ideas easier.
Space means the bedroom decorating ideas can use more color options. Using multiple color combinations and layers will create a distinctive Arizona home with a personal look.
Master bedrooms with an on suite and a sitting area give you lots of space. A useful tip from Tucson interior designers is to create a color plan for all the space in total. Don't break the space up by using conflicting colors.
That doesn't mean the paint colors for the bedroom and bathroom southwest decor must match. Match NO. However, they must complement one another.
Incorporate the accent colors from one room into an a joining space. This creates a southwest decor with a unified look.
Consider the feeling you want to set within your master bedroom. The focus for Tucson design is to create a space to be a tranquil retreat with soothing colors.
Receive FREE Property Updates

–

Receive e-mail updates for Tucson AZ homes matching your
search criteria and the ability to

SAVE

your searches and favorite properties to view later.


A Neutral Palette OR Not?
If you are considering selling your home, stay with neutral colors. Bold colors can scare buyers away. Even though we all know changing wall colors is pretty easy.
The good thing about a neutral palette is it allows you to change out accessories to change the mood.
But southwest decor means color. Vibrant bold colors.
So Lets Talk Colors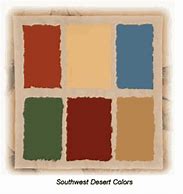 The native American and Spanish believe that colors can protect against evil spirit. The proof is in the colors used in most of Southwestern interior designs.
One reoccurring question is "Why are the Southwestern interior paint colors very warm?" The answer is pretty simple. Bright and bold colors resembles the colors of the Mother Earth.
Want a southwest decor with more color on the walls? Let your passions be your guide.
Turquoise and blue-green colors reflect the sky. Orange and yellows reflect the desert.
Love green? Green is among the better colors for bedrooms. It provides both warm and cool feelings. There are also many tints to choose to get it "just" right.
Green also enhances the furnishings in the room.
And green also look great in a living area or family room. Southwest decor can include modern, traditional or eclectic style furniture.
Green, along with pops of complementary colors, shows well on either painted or bare wood furniture.
On the other had, a little red will do ya! Red can be used in any room, but with caution. Red is a color that stimulates. Using too much of it can be very overwhelming. If red is your color try a muted tint.
Or consider using red on just one wall. A wall behind large furniture or a wall with large windows. Windows will break up the strong color.
Bare wood furniture will likely not go well in a room with pure red walls. It can clash. It is usually better to go with painted pieces.
The suggestions for red also hold valid for yellow. Softer tones will be more calming, and you wouldn't want to select too bright a shade in the bedroom.
Artwork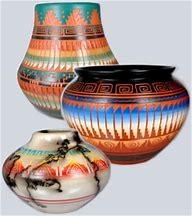 Cool and soothing Blues are a natural for southwest decor. This area of the palette is soothing and cool. Using deeper shades of blue in traditional creates a stately backdrop for antiques and classic furnishings.
Most artwork will standout against deeper shades of blue. There are lots of muted and pale tones of blue that produce a softer look for those who don't want a dark color on their walls.
That doesn't mean that a bright or dark color has no place in southwest decor. A palette of neutral shades will create a look with opportunity at add pops of color. Bed linens, pillows, lamps and other accessories can be used for that perfect spark of color.
Oh, and don't forget about that outdoor landscape. Flowers, cacti and desert plants will create a background for the inside decor.
Looking for a home or winter retreat in the Southwest? Take a close look at Tucson Arizona. If Tucson is on your list, we can help. As Tucson Top Realtors we can help you find you perfect home in Tucson.
Considering A Home In Tucson, AZ?
Are you thinking of buying a home in the greater Tucson area? Finding the right home can be a challenging process. But we can make the process much less stressful for you.
We have been Tucson Realtors since 2002. We know Tucson and the Tucson Real Estate market. As a top Realtor duo, we invest the time to understand your home buying interests and desires.
At our first meeting, we will review the current real estate market with you. Show you the market data and then walk you through the Arizona home buying process.
Why? We want you to know what to expect. And what to plan for.
Interested in new construction? We'll brief you on buying a new construction home. And what's unique about the process.
For us, you are not another real estate transaction. You are a client and, future friend. We strive to create a relationship that continues long after you move into your home. Review our profiles. Check out our backgrounds, education, and certifications.
We are here to help you "know what you need to know" to buy a home in Tucson, AZ. We provide you information on Tucson events, places to shop and restaurants. Our resources include contractors, electricians, and home services.
We will also help you get deals on tile and paint to make the home you buy yours. Our professional service backgrounds mean we put you first!
Conclusion
Thank you for visiting www.premiertucsonhomes.com! It's one of the top real estate websites in Tucson. Our clients say that, not us.
Our website provides information on communities and neighborhoods in the greater Tucson area. Want more? Give us a call – 520-940-4541. We are ready to answer your questions and help you get the information you are looking for.
We are a top Realtor duo in Tucson, AZ since 2002. Read our client testimonials. Give us a call. We look forward to making your home buying or selling a home an enjoyable experience for YOU!
Sign UP to receive daily HOME TRACKER UPDATES - OR - Our Monthly NEWSLETTER. And get regular updates on the Real Estate Market and events in Tucson, AZ.
Questions about the Tucson Real Estate Market or Tucson Homes for Sale? Call Us - 520 940 4541 OR complete the - CONTACT FORM - and we will get right back to you!