Find Tucson Luxury Homes For Sale
Easy Tucson MLS Search Luxury Homes

What Is A Mansion?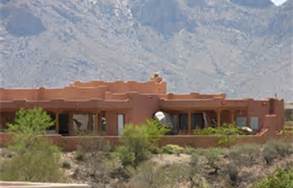 The dictionary defines a mansion as a very large, impressive, or stately residence. Needless to say, that definition will mean different things to different people. Are there mansions for sale in Tucson AZ? Of course there are!
Homes meeting the above definition have been in Tucson since the mid 1800's. Some of the earliest are found in an area once nicknamed "Snob Hollow". The mansions of wealthy Tucson residents have changed along with most other building trends have over time.
As with most other cities in the United States, the architecture of Tucson's mansions has changed as the materials, technology and creative designs have evolved.
So the answer to the question, "are there mansions fro sale in Tucson AZ" has a second part. What are you looking for in a Tucson mansion?
Luxury Homes In Historic Districts
Tucson has a number of historic district and many of them will have homes that meet the definition of a mansion. These will be old mansions. Some of these homes have been upgraded to today's buyer needs while others are waiting for the right buyer to bring them back to the glory.
Search Tucson's Historic District Neighborhood Mansions
Mid Century Modern Luxury Homes



Looking for a mid century modern mansion? Then Tucson is a great place to find one. Today's mid century modern home is actually a contemporary home built during the period from 1945 to the mid 1975.
Search The Tucson MLS For Mid Century Modern Mansions
Luxury Homes Throughout Tucson AZ
Large, impressive, or stately homes can be found in many areas of Tucson AZ. These luxury mansions will have a wide range of architectural style and amenities.
Search For Tucson Luxury Homes By Tucson MLS Area
Considering A Home In Tucson, AZ?
Are you thinking of buying a home in the greater Tucson area? Finding the right home can be a challenging process. But we can make the process much less stressful for you.
We have been Tucson Realtors since 2002. We know Tucson and the Tucson Real Estate market. As a top Realtor duo, we invest the time to understand your home buying interests and desires.
At our first meeting, we will review the current real estate market with you. Show you the market data and then walk you through the Arizona home buying process.
Why? We want you to know what to expect. And what to plan for.
Interested in new construction? We'll brief you on buying a new construction home. And what's unique about the process.
For us, you are not another real estate transaction. You are a client and, future friend. We strive to create a relationship that continues long after you move into your home. Review our profiles. Check out our backgrounds, education, and certifications.
We are here to help you "know what you need to know" to buy a home in Tucson, AZ. We provide you information on Tucson events, places to shop and restaurants. Our resources include licensed contractors, electricians, plumbers and home services to take on your projects.
But most important, our professional service backgrounds mean we put you first!
Conclusion
Thank you for visiting www.premiertucsonhomes.com! It's one of the top real estate websites in Tucson. Our clients tell us that.
Our website provides information on communities and neighborhoods in the greater Tucson area. Want more? Give us a call – 520-940-4541. We are ready to answer your questions and help you get the information you are looking for.
We are a top Realtor team in Tucson, AZ since 2002. Take a minutes to read our profiles and client testimonials. Maybe we are the Tucson Realtors you have been looking for.
We look forward to making your home buying or selling experience enjoyable YOU!
Sign UP to receive daily HOME TRACKER UPDATES - OR - Our Monthly NEWSLETTER. And get regular updates on the Real Estate Market and events in Tucson, AZ.
Questions about the Tucson Real Estate Market or Tucson Homes for Sale? Call Us - 520 940 4541 OR complete the - CONTACT FORM - and we will get right back to you!