Food and Wine Magazine Recognizes Tucson As One Of The "Next Great Food Cities!"
Another Reason To Live In Tucson, Arizona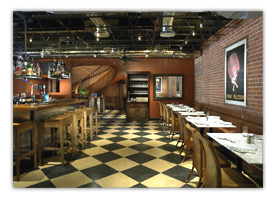 Food and Wine Magazine is recognizing Tucson as one of the "Next Great Food Cities" in America. One of Seven smaller cities in the United States to make the list.
The designation is based on creativity, innovation, diversity, and deliciousness of America's seven most exciting up-and-coming destinations for food lovers.
It's an exciting time for food in America. The culinary landscape in cities around the country has matured in the past two decades. A shift that has been thrilling to experience and to taste.
During the last 2 years chefs and restaurateurs left big cities for smaller cities. Many of these smaller cities were communities where they crafted their trade.
It is these destinations that make up Food & Wine's inaugural list of the next great food cities.
Smaller Is Better
Tucson is one of the seven exciting smaller cities that have big food scenes.
Tucson's great food experiences are well known to those of us living in this great city.
But now Food and Wine is announcing it to the world.
Tucson is Arizona's second-largest city. The city's heritage means it is the land of flour tortillas.
In 2015, Tucson received the designation as a City of Gastronomy by UNESCO. UNESCO stands for the United Nations Education, Scientific and Cultural Organization.
Many guidebooks have tourist-oriented spots like the 100-year-old El Charro Café.
El Charro's history alone makes it worth visiting for a quick snack. Try the carne seca cheese crisp. It is a giant open-faced quesadilla with cheese and piles of desert air–dried beef.
But there are many less famous restaurants that not in guidebooks that make the food scene great.
Lets Begin
A top one is La Indita. This restaurant presents all the classics of a sit-down Mexican restaurant. But look a little further and you see some other great choices.
For example the fried Tarascan tacos, that honor founder Maria Garcia's Tohono O'odham heritage.
With those yummy tortillas in mind, your first stop is La Estrella Bakery. Buy a package of tortillas. They are so fresh that you can eat them plain from the bag while driving.
And where should you be driving? Over to Anita's Street Market. It is a tiny neighborhood shop with a charming backyard. It is the perfect spot to feast on their egg-and-cheese-stuffed breakfast burrito.
Craving for another bag of tortillas? Head to St. Mary's Mexican Food. They make some of the best beans and rice in town.
Ready to push your palette? Tacos Apson is next for a solid bean-and-cheese burrito (or burros, in the local parlance).
To round out the day, finish at Taqueria Pico De Gallo. The quesadilla will make you think you are in heaven.
The Sonoran Dog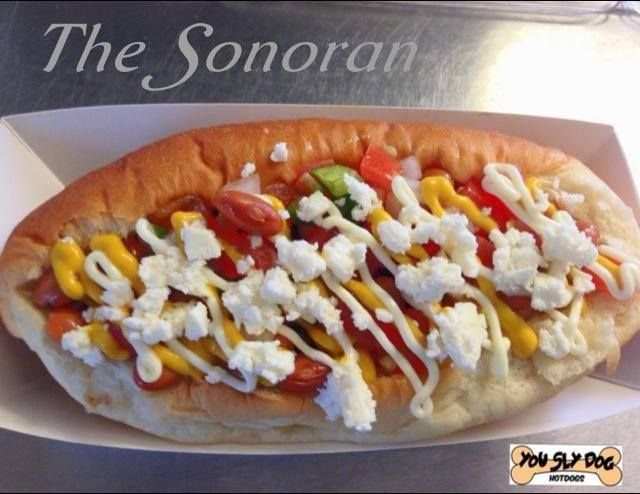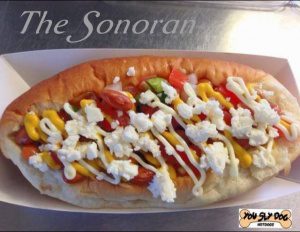 Ok, now you are ready for a change of pace. The Sonoran dog!
This is a stalwart in Tucson. Sonoran dogs come stretched out on a soft bolillo roll. Each dog will comes loaded up with all manor of stuff. Pinto beans, chopped tomatoes, onions, mayonnaise, mustard, and salsa verde.
One fellow visitor observed, "it makes Chicago dogs look boring."
Where do you find these beautiful "dogs"? Try either El Güero Canelo or BK Tacos. BK Tacos even offers a version made with a vegetarian hot dog.
Another spot, Ruiz Hot Dogs Los Chipilones, serves its dogs on a toasted bun.
Considering A Home In Tucson, AZ?
There are lots of great restaurants in Tucson. Unfortunately some have closed during the COVID restrictions period. Is sad, but other will come. To check out some the best restaurants in Tucson…..Go Here!
To see the entire list of Next Great Food Cities…..JUST CLICK HERE
Are you thinking of buying a home in the greater Tucson area? Finding the right home can be a challenging process. But we can make the process much less stressful for you.
We have been Tucson Realtors since 2002. We know Tucson and the Tucson Real Estate market. As a top Realtor duo, we invest the time to understand your home buying interests and desires.
At our first meeting, we will review the current real estate market with you. Show you the market data and then walk you through the Arizona home buying process.
Why? We want you to know what to expect. And what to plan for.
Interested in new construction? We'll brief you on buying a new construction home. And what's unique about the process.
For us, you are not another real estate transaction. You are a client and, future friend. We strive to create a relationship that continues long after you move into your home. Review our profiles. Check out our backgrounds, education, and certifications.
We are here to help you "know what you need to know" to buy a home in Tucson, AZ. We provide you information on Tucson events, places to shop and restaurants. Our resources include contractors, electricians, and home services.
But most important, our professional service backgrounds mean we put you first!
Conclusion
Thank you for visiting www.premiertucsonhomes.com! It's one of the top real estate websites in Tucson. Our clients tell us that.
Our website provides information on communities and neighborhoods in the greater Tucson area. Want more? Give us a call – 520-940-4541. We are ready to answer your questions and help you get the information you are looking for.
We are a top Realtor duo in Tucson, AZ since 2002. Read our client testimonials. Give us a call. We look forward to making your home buying or selling experience enjoyable YOU!
Sign UP to receive daily HOME TRACKER UPDATES - OR - Our Monthly NEWSLETTER. And get regular updates on the Real Estate Market and events in Tucson, AZ.
Questions about the Tucson Real Estate Market or Tucson Homes for Sale? Call Us - 520 940 4541 OR complete the - CONTACT FORM - and we will get right back to you!