The Tucson Streetcar System

Makes Getting Around The Downtown Area A Breeze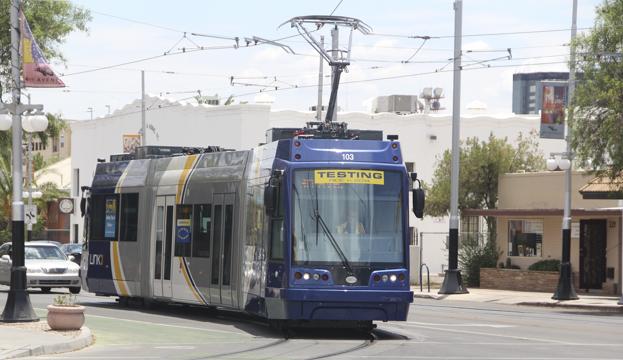 Today's modern Tucson Streetcar system is making getting around downtown Tucson a breeze.
But streetcars in Tucson go back to 1904. A time when streetcars moved by mules and horses.
The mules and horses retired 2 years later as electric streetcars enter service.The electric streetcars operated from 1906 until December 31, 1930.
In January 1931, City buses replaced the Tucson streetcars.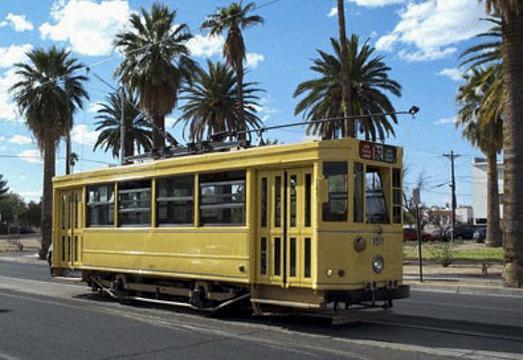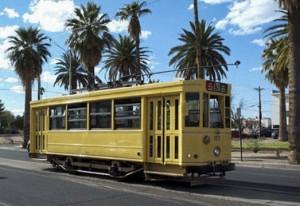 Bringing Back The Tucson Streetcar
In 1993, the Tucson Heritage Trolley line began operation. The trolleys traveled on abandon track along University Avenue.
The route expanded with new track along 8th Avenue and 4th Avenue.
Planning Begins
In 2006, a Regional Transportation plan created funding for a new streetcar system. Construction began in 2010. Four years and $200 million for construction, the new Tucson streetcar entered service.
Tickets are required to ride on the Tucson streetcars. No money can be used on the streetcar. Tickets will need to purchased before boarding a Tucson streetcar.
When you are ready to ride, look for one of the ticket vending machines at each stop. Also, this new modern technology comes new rules for the cyclist, pedestrian, and motorist.
The safety rules and things to review to be up-to-date are available on a short youtube video.
North 4th Avenue Stops
North 4th Avenue, know for its Tucson nightlife, is pulling out all of the stops in order to celebrate the streetcar operations.
Streetcars provide a means to get from downtown to the Mercado district west of Interstate 10.
The Mercado San Agustin Stop
The Mercado San Agustín will be another spot for excitement on Friday. The charming courtyard of the Mercado is encircled by a variety of local eateries and shops are all ready to celebrate the Tucson streetcar launch. This is also the point where Tucson streetcars loop back toward downtown.
For the University of Arizona campus Tucson streetcar celebration is designed to acquaint people with the many reasons why the UA is such an exciting academic hub.
To introduce people to the Tucson streetcar launch, the first three days of service will be free to the public. From Friday July 25 through Sunday July 27th. After that a typical day passes for travel on the streetcar system will cost $4.00
The map of the Tucson Streetcar Route shows the City of Tucson areas to be served and Tucson streetcar stops
New Development
The overall Tucson development effort is adding brewpubs, the exciting downtown Tucson restaurants and trendy student-housing. And there's more of everything coming to downtown Tucson and these projects are critical to future prosperity.
AC Hotel by Marriott selected downtown Tucson for a brand new concept hotel. It will be an 8-story, 150-room hotel at 5th Ave. and Broadway. This brand is big in Europe and provides a very distinctive and modern style.
The Rio Nuevo District and City have been working on this public-private partnership (P3) project for a prolonged time period. Financed by private money at a cost of $32 million, the P3 hotel got its final OK this month.
The hotel is adjacent to the first downtown grocery store in many years (11 S. 6th Ave.) and slated to open up in December. The Johnny Gibson's Market, leased by previous and current owners of Rincon Market, is to share a common area with the new hotel.
Considering A Home In Tucson, AZ?
Are you thinking of buying a home in the greater Tucson area? Finding the right home can be a challenging process. But we can make the process much less stressful for you.
We have been Tucson Realtors since 2002. We know Tucson and the Tucson Real Estate market. As a top Realtor duo, we invest the time to understand your home buying interests and desires.
At our first meeting, we will review the current real estate market with you. Show you the market data and then walk you through the Arizona home buying process.
Why? We want you to know what to expect. And what to plan for.
Interested in new construction? We'll brief you on buying a new construction home. And what's unique about the process.
For us, you are not another real estate transaction. You are a client and, future friend. We strive to create a relationship that continues long after you move into your home. Review our profiles. Check out our backgrounds, education, and certifications.
We are here to help you "know what you need to know" to buy a home in Tucson, AZ. We provide you information on Tucson events, places to shop and restaurants. Our resources include contractors, electricians, and home services.
But most important, our professional service backgrounds mean we put you first!
Thinking About Selling Your Home In The Greater Tucson Area?
Selling a home requires more than listing it in the Tucson MLS system. It's about marketing. Marketing through multiple online channels.
To no one's surprise, 80% of home buyers start their search on the internet. Homes must be visible on multiple internet channels. The more visible a home is, the faster it will sell.
And the photos on the mls make a difference. You can spend lots of money on home staging, but if the photos aren't great it doesn't matter. Staging and stunning photos make it all come together.
We use multiple online marketing channels to showcase your home. We will build a stand-alone website built to show your home. Our marketing program targets key cities in the U. S. based on the season.
For luxury listings, our drone service provides video of your home and neighborhood. This video along with professional photos helps the online buyer see and feel your home. Their "new" home.
To learn more about how we can help you sell your Tucson home, call us – 520-940-4541 – to arrange a meeting. We will visit your home and prepare a comparative market analysis.
Then we will meet with you to review our analysis. We will go over our Comparative Market Analysis for your home in detail. And the review our marketing program to "get your home sold!"
Conclusion
Thank you for visiting www.premiertucsonhomes.com! It's one of the top real estate websites in Tucson. Our clients tell us that.
Our website provides information on communities and neighborhoods in the greater Tucson area. Want more? Give us a call – 520-940-4541. We are ready to answer your questions and help you get the information you are looking for.
We are a top Realtor duo in Tucson, AZ since 2002. Read our client testimonials. Give us a call. We look forward to making your home buying or selling experience enjoyable YOU!
Sign UP to receive daily HOME TRACKER UPDATES - OR - Our Monthly NEWSLETTER. And get regular updates on the Real Estate Market and events in Tucson, AZ.
Questions about the Tucson Real Estate Market or Tucson Homes for Sale? Call Us - 520 940 4541 OR complete the - CONTACT FORM - and we will get right back to you!