4 Things Not To Do To Sell Your Home
Taking Time To Find A Realtor You Trust Isn't One Of Them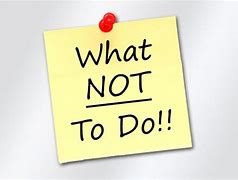 The letter you have been waiting for arrived. With apprehension you open it. There it is. The offer of the job of a lifetime in the place you always wanted to live. Now you need to sell your home.
You prepared questions for the Realtor interviews. You list all the things you expect to do to make your home ready to sell.
Your "to do list" is long, but you are up to the task. But as you review the to-do list, keep in mend it's also important to pay attention of what not to do.
Consider these "don't dos".
Don't Over-Improve
As you ready your home for sale, you may want to make a couple of changes. Invest a little money and improve the chances your home will sell fast and for a higher price.
Updating the appliances in the kitchen can be a money maker. But don't over improve or make everything specific to your tastes. Do that in your "soon to be" new home.
How about replacing the warn carpeting? Good idea. New carpet will always look better. But what if the buyer doesn't like your color or texture choice. Turn OFF.
Consider giving a buyer a credit to closing costs equal to the cost of the carpet. Let the buyer pick the new carpet.
Getting the picture? Making the right choices will help sell your home. But don't go overboard.
It is also a good idea to have your trusted Realtor involved in determining what changes to make. They see a lot of homes and should know what are the better choices to increase value. Not waste money.
Don't Over-Decorate
The key word when decorating to sell a home is neutralize. Over-decorating is as bad as over-improving.
When prepping for sale, neutralize your decorating scheme so it appeals to a broad market. Yes, some accent colors are great. But a lavender wall in the master bath might be to much.
Once again, lean on your trusted Realtor to give you pointers.
Don't hang around
When your agent calls to schedule a showing get ready and get out.
Don't have your whole family at the door with cookies when a potential buyer arrives.
Buyers want to see themselves in your home. Visualize how they will arrange their "stuff" in your space.
So when you get the call, tidy up the place. Turn on the lights and see your home as the buyer will. Is it fresh, clean and inviting.
If your answer is yes. Job well done.
Take Luna the dog and the kids and head out the door. Get out of the house. Go for a drive, take a long walk, and don't come back until the potential buyers have left.
Don't take things personal
Buying or selling a homes can be very emotional. So when your Realtor calls to give you feedback on the showing don't take comments personal.
So what if the buyer didn't like the built in book shelves you loved. If you get a "lowball" offer don't get mad.
The buyer a least made an offer. Now work with your trusted Realtor to craft a counter offer that gets you closer to where you want to be.
Remember, its not all about the price. The terms and conditions of the contract are important as well. Do you need to a longer closing date?
If you have to rent it may cost you extra money. How does a later closing sit with the buyer.
Could you close and lease back until you find your dream home in your new community? Have your Realtor talk to the buyer's agent to find common ground.
And, if that doesn't work, don't get upset. There will be another buyer ……. soon.
Thinking About Selling Your Home In The Greater Tucson Area?
Selling a home requires more than listing it in the Tucson MLS system. It's about marketing. Marketing through multiple online channels.
To no one's surprise, 80% of home buyers start their search on the internet. Homes must be visible on multiple internet channels. The more visible a home is, the faster it will sell.
The right photos on the MLS will make a big difference. You can spend lots of money on home staging, but if the photos aren't great it doesn't matter. Staging and stunning photos make it all come together.
We use multiple online marketing channels to showcase your home. We will build a stand-alone website built to show your home. Our marketing program targets key cities in the U. S. based on the season.
For luxury listings, our drone service provides video of your home and neighborhood. This video along with professional photos helps the online buyer see and feel your home. Their "new" home.
To learn more about how we can help you sell your Tucson home, call us – 520-940-4541 – to arrange a meeting. We will visit your home and prepare a comparative market analysis.
Then we will meet with you to review our analysis. We will go over our Comparative Market Analysis for your home in detail. And the review our marketing program to "get your home sold!"
Conclusion
Thank you for visiting www.premiertucsonhomes.com! It's one of the top real estate websites in Tucson. Our clients say that, not us.
Our website provides information on communities and neighborhoods in the greater Tucson area. Want more? Give us a call – 520-940-4541. We are ready to answer your questions and help you get the information you are looking for.
We are a top Realtor duo in Tucson, AZ since 2002. Read our client testimonials. Give us a call. We look forward to making your home buying or selling a home an enjoyable experience for YOU!
Sign UP to receive daily HOME TRACKER UPDATES - OR - Our Monthly NEWSLETTER. And get regular updates on the Real Estate Market and events in Tucson, AZ.
Questions about the Tucson Real Estate Market or Tucson Homes for Sale? Call Us - 520 940 4541 OR complete the - CONTACT FORM - and we will get right back to you!