How Is Your FICO Score Calculated?
Changes That Could Increase Your Score
What Is A FICO Score?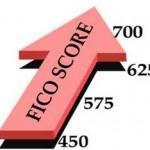 Fair Isaac, is the company that sells the FICO credit score to mortgage lenders, auto lenders, credit card companies and banks. Fair Isaac has recently indicated it is modifying its FICO score formula to give less importance to delinquent medical bills and debts that consumers settled with collection agencies.
What Makes Up a FICO Credit Score
A credit score takes into account a lot of assorted information from your credit report, but it's not all treated equally. Some aspects of your credit track record are more significant than others and will weigh more heavily on your overall score.
Your FICO score is essentially made up of the following:
Payment History – 35%
Total Amounts Owed – 30%
Length of Credit History – 15%
New Credit – 10%
Type of Credit in Use – 10%
As one can see, the majority of your credit score comes from your payment history and how much debt you actually have. Those 2 factors account for 65% of your score. So, if you're really looking to improve your credit score, these are the areas you'll want to tackle first.
What Is A FICO Score And The Recent FICO Score Calculation Change
A change in the method the popular FICO credit score is calculated could boost an individual's score if:
You've settled past debts with a collection agency.
You have delinquent medical bills.
Your credit is thin because you're just starting out or you're a retiree who no longer uses a lot of credit.
What is a FICO score and how does it effect someone
In general, the higher your credit score, the less interest you pay when you borrow money to buy a home or a car, or to pay via a credit card. In case your score drops too low, you may not be able to get a loan or a credit card.
Here's what will change starting in the fall 2014:
If medical debt is the only unpaid bill on your credit report, your score could rise by about 25 points.
Your FICO score won't be lowered if your debt was sold to a collection agency and you then paid it off.
If you don't use credit very much, Fair Issac will utilize other data, such as rent payments, to bolster the accuracy of your score.
Fair Issac made the change after a Consumer Financial Protection Bureau report contended that medical debt isn't a strong indication that a consumer won't pay other types of debt.
What Is A FICO Score
When your credit score rises, chances are you'll first see an improvement in the interest rates you're charged on auto loans, personal loans and mortgage loans.
Unfortunately, mortgage interest rates may not come down very much since lenders follow Fannie Mae and Freddie Mac's lending guidelines. These guidelines instruct lenders to use a specific mortgage credit score which will not be effected by the latest FICO score formula changes.
For those who want to buy a home, but may not have a good FICO score, check out these steps to take before applying for a home loan.
Conclusion
Thank you for visiting www.premiertucsonhomes.com! It's one of the top real estate websites in Tucson. Our clients tell us that.
Our website provides information on communities and neighborhoods in the greater Tucson area. Want more? Give us a call – 520-940-4541.
We are ready to answer your questions and help you get the information you are looking for.
We are a top Realtor team in Tucson, AZ since 2002. Read our profiles and our client testimonials. Our business backgrounds and experience in Tucson real estate may be what you are looking for,
We look forward to making your home buying or selling experience enjoyable YOU!
Considering a move to Tucson AZ as a place to retire OR just want a winter get away? We can help!
Sign UP to receive daily HOME TRACKER UPDATES - OR - Our Monthly NEWSLETTER. And get regular updates on the Real Estate Market and events in Tucson, AZ.
Questions about the Tucson Real Estate Market or Tucson Homes for Sale? Call Us - 520 940 4541 OR complete the - CONTACT FORM - and we will get right back to you!