A Luxury Kitchen Is THE Remodel Again In 2022
Letting The Homeowners Personality Shine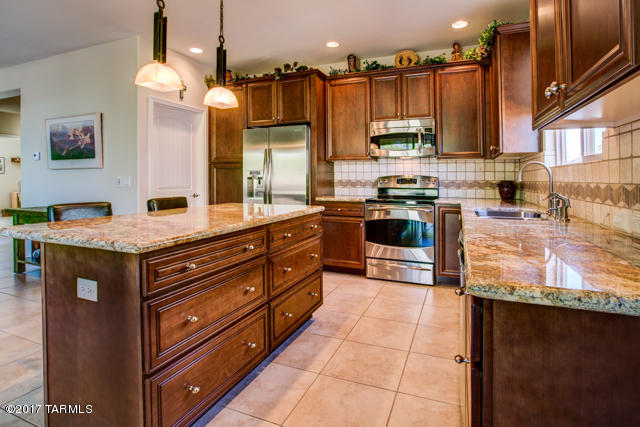 Americans spent a lot more time in the kitchen since 2020. Kitchens were the command center for the household. The place to craft meals, hold Zoom happy hours and home school. Not to mention home office, family room and share the events of the day.
The increased usage of the kitchen's space is making it a prime space for investment in again in 2022.
Top designers from across the country are seeing a common thread in light of this year's events. They expect to see everything from simple color changes to major kitchen make overs.
Expect to see colorful cabinetry, more tile, and upscale details. The kitchen has always been an integral room in our homes
And A Kitchen Remodel Adds Value
Home sales data showed luxury kitchen "upgrades" added value when selling the home.
Six of the top 10 features mentioned in listings that sold for more than expected in 2020 were in the kitchen. And there are many kitchen styles that will add value to a home.
Two were bathrooms upgrades and one — "modern farmhouse" the other. In this case "modern" does not imply an outhouse situation.
Listings that mentioned "steam ovens" topped the list for price premiums. Homes with them sold for about 4.9% more than expected. Pizza ovens (3.4%), new appliances (3.2%), quartz (3.2%) — as in countertops.
Now lets understand one thing. This is empirical data. It isn't meant to imply cause and effect. There are lots of factors that effect the sales price of a home. Both upward and down.
Buyers VS Sellers
Buyer's perspective the features in a home to reflect that a home is cutting-edge and/or well-updated. And buyers wanting specific features may be willing to pay more for them when making an offer.
But bargain-hunting buyers may see such features as needing to pay more for a home. Ending up overpaying for a prior renovation that doesn't suit them or for features they don't want/need.
From a seller's perspective, there's a clear takeaway. If you've got these features in your home, don't hide them from buyers! And if your home doesn't have these features, don't pretend it does.
Considering A Kitchen Remodel?
The luxury kitchen of 2022, will boasting streamlined design and no clutter.
But that doesn't mean a minimalist design won't be warm and inviting. Such comfortable feelings result from surface materials, finish selections and paint colors.
The right combination of countertops, backsplashes, flooring and paint make it happen. A thoughtful design of the modern kitchen allows the homeowner personality to shine.
And don't forget that luxury outdoor kitchen. Bring the family home for each celebration.
Considering A Home In Tucson, AZ?
Are you thinking of buying a home in the greater Tucson area? Finding the right home can be a challenging process. But we can make the process much less stressful for you.
We have been Tucson Realtors since 2002. We know Tucson and the Tucson Real Estate market. As a top Realtor duo, we invest the time to understand your home buying interests and desires.
At our first meeting, we will review the current real estate market with you. Show you the market data and then walk you through the Arizona home buying process.
Why? We want you to know what to expect. And what to plan for.
Interested in new construction? We'll brief you on buying a new construction home. And what's unique about the process.
For us, you are not another real estate transaction. You are a client and, future friend. We strive to create a relationship that continues long after you move into your home. Review our profiles. Check out our backgrounds, education, and certifications.
We are here to help you "know what you need to know" to buy a home in Tucson, AZ. We provide you information on Tucson events, places to shop and restaurants. Our resources include contractors, electricians, and home services.
But most important, our professional service backgrounds mean we put you first!
Thinking About Selling Your Home In The Greater Tucson Area?
Selling a home requires more than listing it in the Tucson MLS system. It's about marketing. Marketing through multiple online channels.
To no one's surprise, 80% of home buyers start their search on the internet. Homes must be visible on multiple internet channels. The more visible a home is, the faster it will sell.
And the photos on the mls make a difference. You can spend lots of money on home staging, but if the photos aren't great it doesn't matter. Staging and stunning photos make it all come together.
We use multiple online marketing channels to showcase your home. We will build a stand-alone website built to show your home. Our marketing program targets key cities in the U. S. based on the season.
For luxury listings, our drone service provides video of your home and neighborhood. This video along with professional photos helps the online buyer see and feel your home. Their "new" home.
To learn more about how we can help you sell your Tucson home, call us – 520-940-4541 – to arrange a meeting. We will visit your home and prepare a comparative market analysis.
Then we will meet with you to review our analysis. We will go over our Comparative Market Analysis for your home in detail. And the review our marketing program to "get your home sold!"
Conclusion
The Tucson housing market continues to be challenging. Low inventory and high demand mean escalating prices. For move up buyers, that luxury kitchen remodel might have you loving your present home.
Thank you for visiting www.premiertucsonhomes.com! It's one of the top real estate websites in Tucson. Our clients tell us that.
Our website provides information on communities and neighborhoods in the greater Tucson area. Want more? Give us a call – 520-940-4541. We are ready to answer your questions and help you get the information you are looking for.
We are a top Realtor duo in Tucson, AZ since 2002. Read our client testimonials. Give us a call. We look forward to making your home buying or selling a home an enjoyable experience for YOU!
Sign UP to receive daily HOME TRACKER UPDATES - OR - Our Monthly NEWSLETTER. And get regular updates on the Real Estate Market and events in Tucson, AZ.
Questions about the Tucson Real Estate Market or Tucson Homes for Sale? Call Us - 520 940 4541 OR complete the - CONTACT FORM - and we will get right back to you!