Pima Federal Credit Union Since 1951
5 Branches In Tucson AZ
A Bit Of History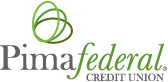 Pima Federal Credit Union was founded in 1951. It was created to meet the needs of the teachers at the Amphitheater High School. With a small pool of resources and a few members, Pima Federal Credit Union was born.
The humble beginnings, some 60 years ago, have served as the foundation for Pima Federal Credit Union.
Pima FCU lives its values – excellent service, teamwork, integrity and engagement. Values rather than the bottom line are the focus. At Pima Federal there is the belief that once values drive the business, the bottom line takes care of itself.
Pima Federal boasts that they are a group of people passionate about the philosophy of people helping people. Employees see mission of serving our members, improving our communities, and protecting our member-owned assets as their day to day job.
Pima FCU has 5 branches in the metro Tucson area.
Stone Financial Center
3730 N. Stone Ave.
Tucson, AZ 85705


MAP

For Location
Thornydale Financial Center
6510 N. Thornydale Rd.
Tucson, AZ 85741
MAP For Location
Silverlake Financial Center
1177 W. Silverlake Rd.
Tucson, AZ 85713
MAP For Location
Valencia Financial Center
2455 E. Valencia Rd.
Tucson, AZ 85706
MAP For Location
Pantano Financial Center
231 N. Pantano Rd.
Tucson, AZ 85710
MAP For Location
For more information on the Pima Federal visit their website.
Conclusion
If you are interested in joining a credit union, Pima Federal Credit Union may be the one for you.
There are seven other credit unions in the greater Tucson metro area. These include: Arizona State Credit Union, Arizona Central Credit, Hughes Federal Credit Union, Pyramid Credit Union, Tucson Federal Credit Union, Tucson Old Pueblo Credit Union and Vantage West Credit Union.
Considering Tucson AZ as a place to live Or thinking about a future retirement home? We can help.
Sign UP to receive daily HOME TRACKER UPDATES - OR - Our Monthly NEWSLETTER. And get regular updates on the Real Estate Market and events in Tucson, AZ.
Questions about the Tucson Real Estate Market or Tucson Homes for Sale? Call Us - 520 940 4541 OR complete the - CONTACT FORM - and we will get right back to you!