Tanque Verde Ranch, Tucson Arizona
An Unforgettable Experience
History Of Tanque Verde Ranch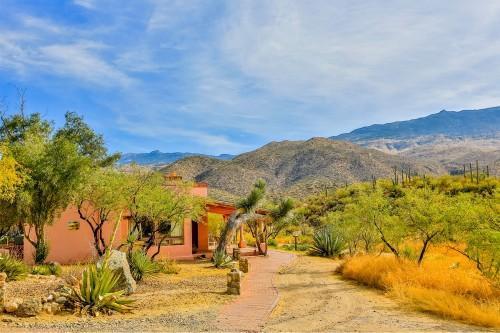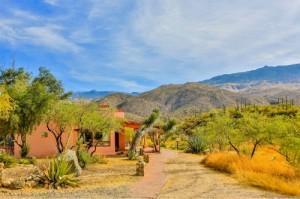 "Tanque Verde" Ranch means "green pool" and was a seasonal river used by the Pima Indians for water.
Emilio Carrillo bought the land in 1868. Carrillo, was a Mexican hacendado (owner of a large estate) from Santa Cruz.
After Carrillo's death in 1908, Jim Converse acquired the property. He began inviting eastern "dudes" to visit and take on various ranch activities. He extended the cattle herd on the ranch as well as visiting tourists until 1955.
Brownie Cote purchased the property in 1957.
He envisioned a classic western dude ranch and world class resort. And that is what the Tanque Verde Ranch is today.
The Cote family continues to operate the ranch.
It is a rustic, all-inclusive resort is a quintessential Western dude ranch. Miles of gorgeous mountains and desert surround the property. Including Saguaro National Park – East.
It is a place where guests can enjoy guided horseback rides, hiking, and mountain biking.
There's also swimming, communal ranch meals, and kids' activities. Despite the resort's remote location, guests can stay plugged in with free Wi-Fi access. But note, guest rooms are without TV's.
Should you want to watch the latest news or event, it's streaming on your laptop.
Awards Received
Tanque Verde Ranch Resort received many awards.
"Best Dude Ranch in Arizona" by Arizona Republic in 2012.
"Top Ten Family Resort" by the Travel Channel since 2007
"Top Five Ranch" by Conda Nast Traveler in 2008.
Silver award for Outstanding Southwestern Cuisine by Tucson Lifestyle Magazine in 2013.
"Top 10 Resorts in the southwest United States" by Conde Nast Readers' Choice Awards in 2019,
Since 1868, Tanque Verde Ranch continues the tradition of outstanding accommodations and amenities. The activities are endless.
This upscale guest ranch is located on over 600 acres of the Sonoran desert on the east side of Tucson AZ.
The Rincon Mountains and Coronado National Forest provide a stunning backdrop to each day.
So Saddle Up And "Come On Down" (MAP)
Once settled in, the fun begins. Activities include horseback riding, guided trail hiking, cycling, swimming, and dancing.
Plus, ok get ready for it – and who would believe it? – fishing.
Tennis and basketball courts are also available. And for those staying between late December and late March, skiing is available on nearby Mt. Lemmon. Yes, skiing!
Based on your riding expertise, select one of the Ranch's 180 horses and ride out into the Old West. Guides provide insights to the area as you ride through the scenic beauty of the desert.
La Sonora Spa
For those with luxury in mind, the La Sonora Spa is for your. Whether it is after a morning ride or a need to just wind down, the La Sonora Spa at Tanque Verde Ranch is the place. Indulge yourself to a massage or skin renewal treatment with products that are a 98% organic. All are made from fruits, vegetables, spices and herbs.
The spa's indoor pool provides views of the Rincon Mountains. The spa whirlpool will sooth the body and get you ready for dinner and lots more activities to be enjoyed.
Accommodations
Are looking for a warm, inviting Arizona dude ranch experience? Then look no further!
Tanque Verde Ranch combines the spirit of the Old West with today's luxury standard. It is one of the most distinctive resorts in southern Arizona.
Tanque Verde Ranch offers a variety of lodging options that provide guests with spectacular scenic views of the desert and mountains. Kick-back and relax in the luxury of your room, tastefully decorated in rich southwestern style.
Traditional adobe walls and Santa Fe style architecture perfectly complement the beauty of the natural surroundings. Tanque Verde Ranch offers a range of rooms that offer spectacular views of the mountains and desert that surround the facility.
After a hard day "on the trail", you can retire to a luxurious room decorated in rich southwestern style. Tanque Verde lodging blends the spirit of the Old West with today's modern luxury accommodations.
Oh! Did I mention the food?
Three outstanding meals are served daily in the main dining room. Additionally, specialty dining events are held each week.
These include an Old Homestead Breakfast Ride, a Mexican Fiesta Night, and the Cottonwood Grove Ranch Barbeque. Experience southwestern cuisine in the unique setting of the Tanque Verde Ranch!
Conclusion
Tanque Verde Ranch creates a welcoming and relaxed get away that blends modern amenities with Old West charm for the whole family. If you want to experience a dude ranch vacation with luxury and amenities, Tanque Verde Ranch should be at the top of your list.
The location provides easy access to the City of Tucson and perfect location to start a day trip to Tombstone or Bisbee.
Thank you for visiting www.premiertucsonhomes.com! It's one of the top real estate websites in Tucson. Our clients say that, not us.
Our website provides information on communities and neighborhoods in the greater Tucson area. Want more? Give us a call – 520-940-4541. We are ready to answer your questions and help you get the information you are looking for.
We are a top Realtor duo in Tucson, AZ since 2002. Read our client testimonials. Give us a call. We look forward to making your home buying or selling a home an enjoyable experience for YOU!
Sign UP to receive daily HOME TRACKER UPDATES - OR - Our Monthly NEWSLETTER. And get regular updates on the Real Estate Market and events in Tucson, AZ.
Questions about the Tucson Real Estate Market or Tucson Homes for Sale? Call Us - 520 940 4541 OR complete the - CONTACT FORM - and we will get right back to you!