The Tucson Housing Market January 2022
Quick Update From Ben & Kim Boldt – Premier Tucson Homes
The Tucson Housing Market January 2022 Results shows the 2022 real estate market begins where 2021 left off. Both the Average and Median Sales Prices for a single family home had double digit gains – 13.6% and 20.7% respectively.
Active Listings to 997 single family homes on the market at the end of January. That rate of sales that translates into a 0.8 month supply.
Following single family homes, the Average and Median Sales price for Condos and Townhouses moved up as well. The Average sales price jumped up 13.4% and Median 22.2%.
Now for the details……
The Tucson Housing Market January 2022 –

Single Family Homes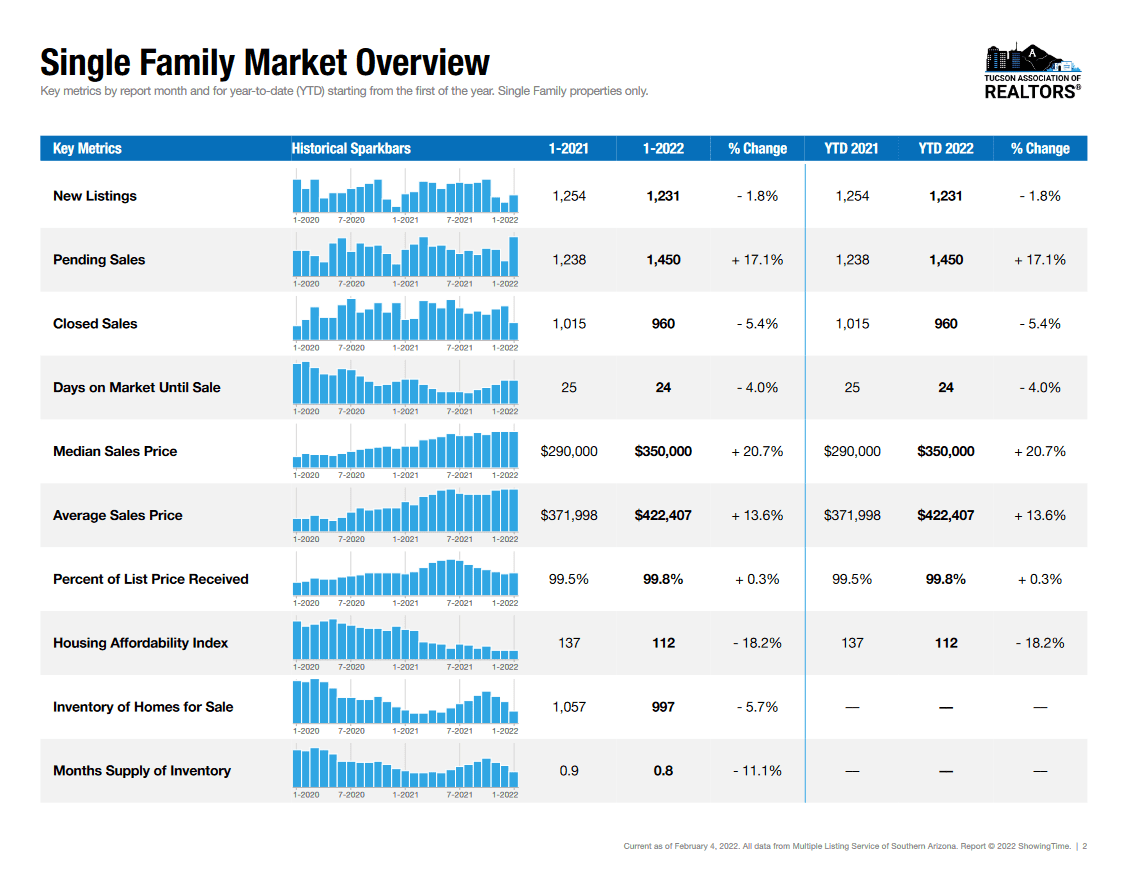 The Tucson Housing Market January 2022 –

Condos & Townhouses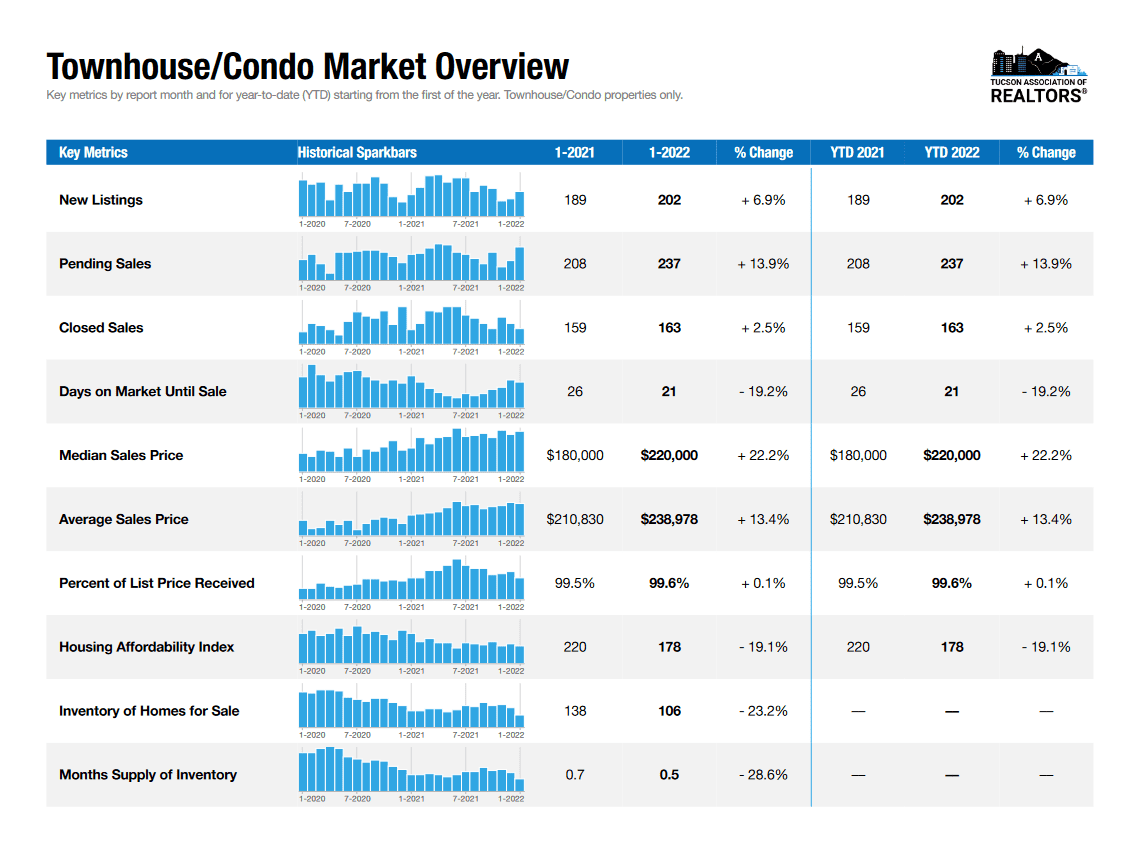 Inventory of Condos and Townhouses stands at 106 units on the market. That is a drop of 23.2% from January 2021.
Average Sales Prices –

Increased 13.6% Year Over Year For Single Family Homes And 13.4% For Condos/Townhouses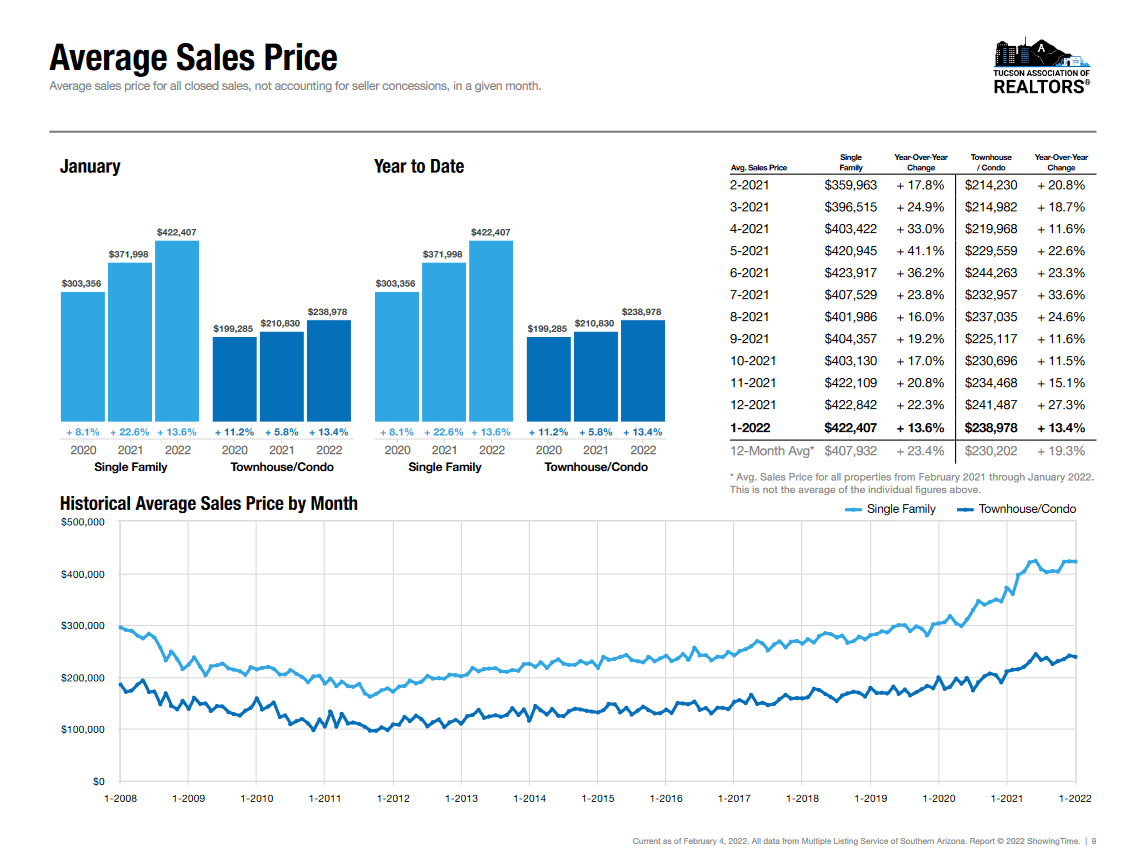 Median Sales Prices –

Increased 20.7% Year Over Year For Single Family Homes And 22.2% For Condos/Townhouses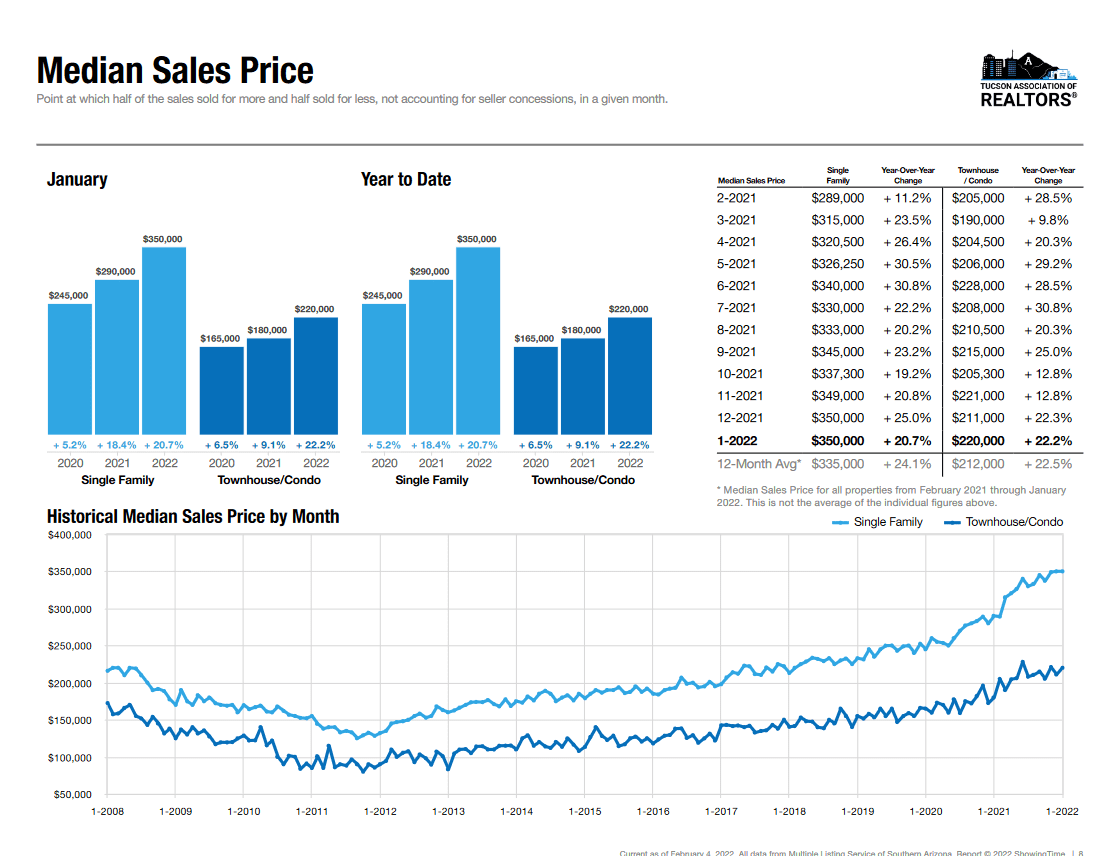 Active Listings –

Single Family Homes Decreased 5.7% From January 2021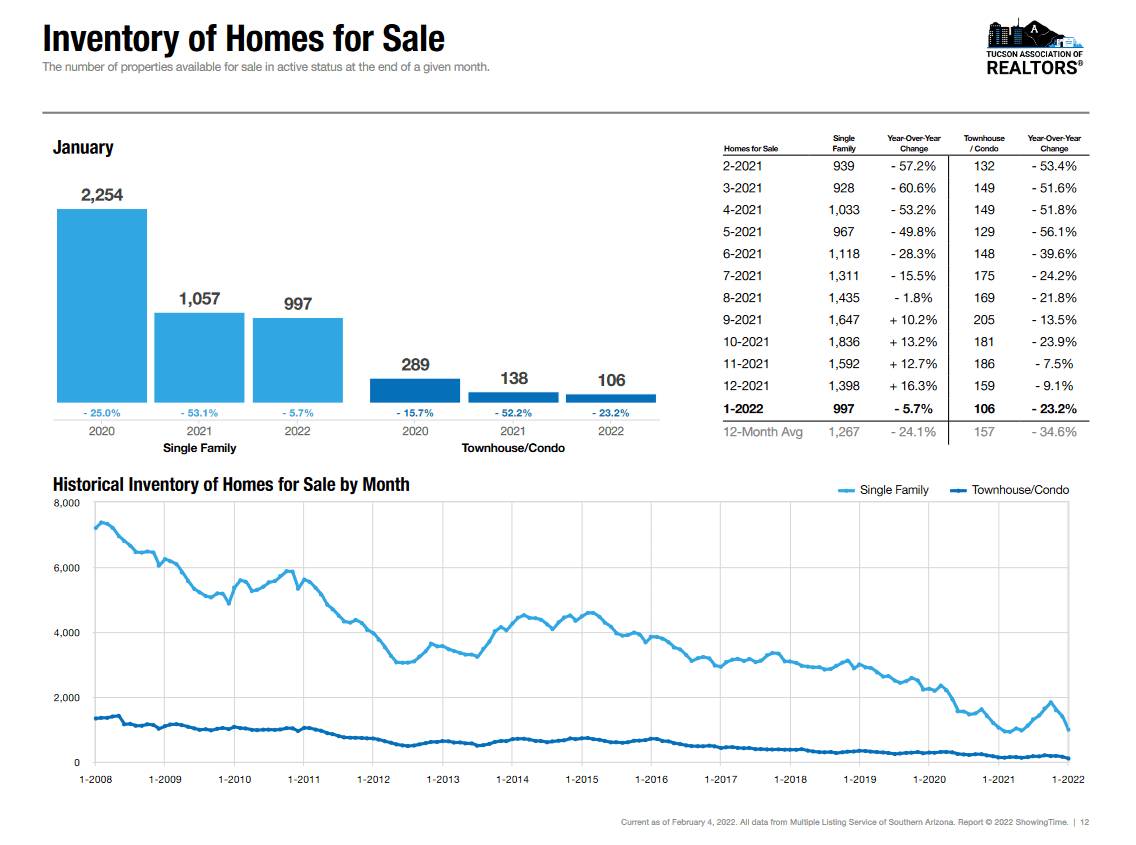 Average Days On Market (DOM) –

Stands At 24 Days For Single Family Homes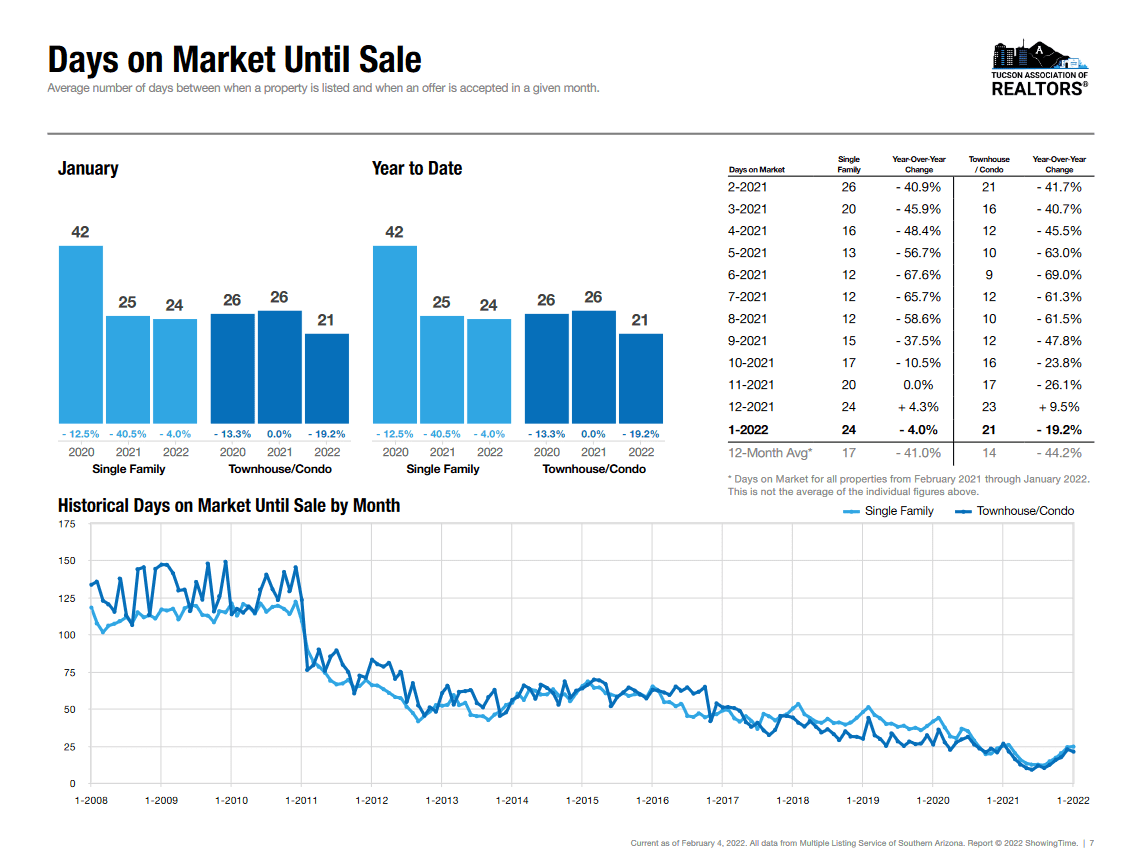 For Single Family Home Days On Market increased 4.0% from January 2021, or just 1 day. For Condo/Townhouses DOM decreased 19.2% from the prior year period, that's 5 Days.

Thinking of putting your home on the market? Price it right and sell it –

FAST!
Percentage Of Listing Price Paid By Buyer –

Is 99.8% For Single Family Homes & 99.6% For Condos/Townhouses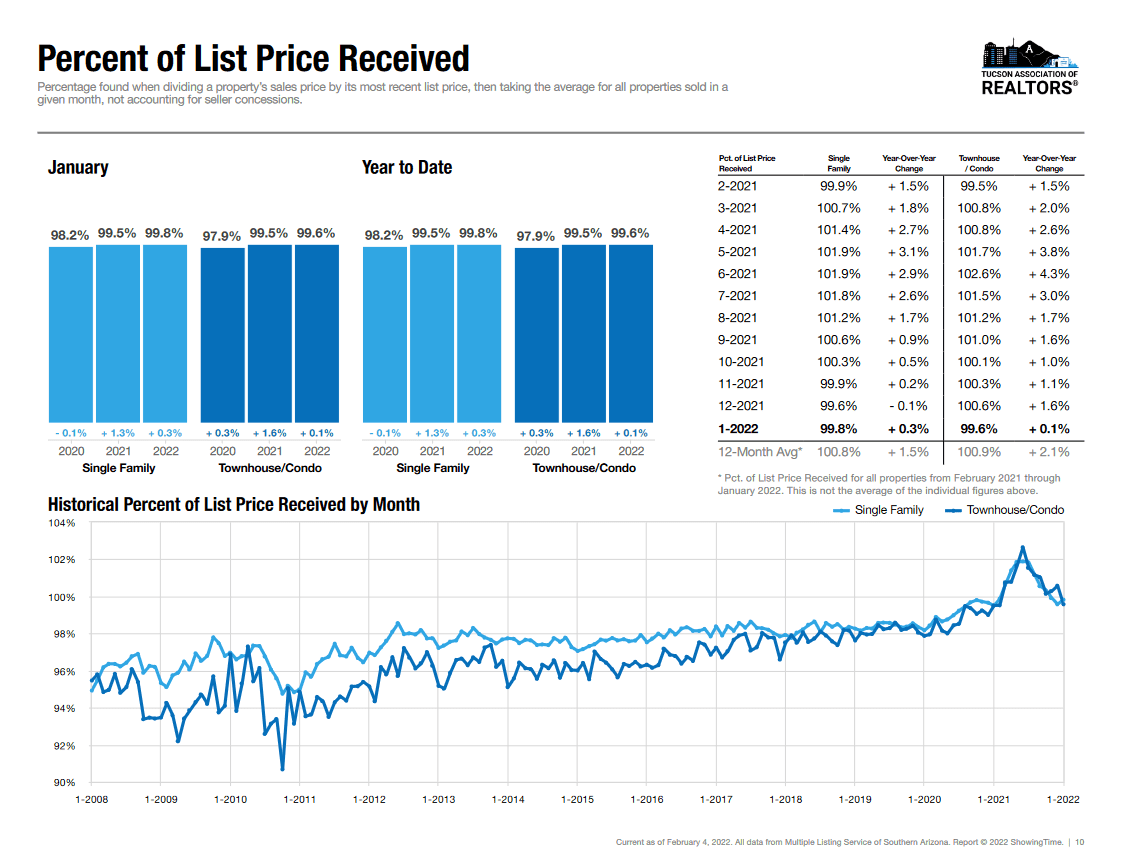 It is a SELLERS market, so when you find the right home, be ready to pay close to list price or OVER.
The Drivers – NO Changes Here! Strong Demand, Historically Low Mortgage Rates And Low Inventory
Demand is strong and inventory remains at historical lows. Supply and demand are driving prices up.
Sellers are in command as buyers look for their "perfect" home in a market with low — REALLY LOW — inventory.
Demand for new construction remain high. And the low number of "active listings" in the resale market is moving people to that choice. There are new homes are being built across Tucson, but in most cases a new construction home will cost more than a resale. Last but not least, new home buyers are waiting 8 to 12+ months to get in the their home.
Keep in mind when buying new construction, landscaping, decorating and window treatments are not included in the price. Want a pool, plan on $45,000 to $70,000 for a standard no frills pool.
And while prices continue to rise, Tucson is still a good value compared to many areas in the U.S
If a "fixer upper" has even a small appeal, check out a 203K FHA loan. Its a good option to have in your pocket when buying a home in Tucson, AZ.
January 2022

Mortgage Update
Mortgage rates have increased into a range from 3.875% to 4.5% for a 30-year conventional loan. Even with these higher rates, 20+% year over year gains make buying a Tucson home an easy choice.
And Tucson remains one of the lower cost of living cities in Arizona and the U.S.
The greater Tucson area continues as a top pick for cities to live in across the United States.
Considering A Home Tucson?
Are you thinking of buying a home in the greater Tucson area? Finding the right home can be a challenging process. But we can make the process much less stressful for you.
We have been Tucson Realtors since 2002. We know Tucson and the Tucson Real Estate market. As a top Realtor team, we invest the time to understand your home buying interests and desires.
At our first meeting, we will review the current real estate market with you. Show you the market data and then walk you through the Arizona home buying process.
Why? We want you to know what to expect. And what to plan for.
Interested in new construction? We'll brief you on buying a new construction home. And what's unique about the process.
For us, you are not another real estate transaction. You are a client and, future friend. We strive to create a relationship that continues long after you move into your home.
Review our profiles. Check out our backgrounds, education, and certifications.
We are here to help you "know what you need to know" to buy a home in Tucson, AZ. We provide you information on Tucson events, places to shop and restaurants. Our resources include contractors, electricians, and home services.
We will also help you get deals on tile and paint to make the home you buy yours. Our professional service backgrounds mean we put you first!
When submitting an offer
Given current inventory levels, low ball offers aren't getting traction. So, if you "really" want the home, make a "reasonable" offer. But with homes selling at 99.8% of list price you have to ask yourself, "Will I feel bad if I don't get this house?"
If the answer is no, then put in an offer you would feel is a steal and see what happens. But your chances of a "great deal" aren't good.
If you think the home is right for you and your family, put in an offer you and your Realtor think is reasonable.That is likely to be at list or higher!

We will work with you to understand your objectives and analyze the market to determine – as best we can – a price range for the home you want to buy or sell.
Longer term Tucson housing market trends can be found for Tucson Real Estate Trends 2006 to 2012 annual along with summaries of 2013 and 2014 annual data.
Go to the Tucson housing report archives for a look at recent housing reports and trends. Our outlook for 2015 is available in our latest issue of Tucson Realty Review.
Conclusion
Thank you for visiting www.premiertucsonhomes.com! It's one of the top real estate websites in Tucson. Our clients say that, not us. Hopefully, you will agree.
Our website provides lots of information on communities and neighborhoods in the greater Tucson area. Want more? Give us a call – 520-940-4541.
We are ready to answer your questions and help you get the information you are looking for. Pandemic or not, we are on the job and ready to assist you find your future home or winter retreat in the Greater Tucson area.
Search the Tucson MLS for your dream home in Tucson Arizona using your criteria. Use the Tucson MLS Map to see where the Tucson MLS Areas are located.
Looking for a home in Tucson or planning for a future retirement in Tucson AZ? We can help!
Sign UP to receive daily HOME TRACKER UPDATES - OR - Our Monthly NEWSLETTER. And get regular updates on the Real Estate Market and events in Tucson, AZ.
Questions about the Tucson Real Estate Market or Tucson Homes for Sale? Call Us - 520 940 4541 OR complete the - CONTACT FORM - and we will get right back to you!