Quick Information On Tucson Schools
Get Information On Schools, Universities & Community Colleges In Tucson, AZ

Tucson Schools provide a broad range of educational opportunities. This list of schools includes Universities, Community Colleges and Public and Private Schools for K thru 12th grade.
Tucson also has a large number of "Charter Schools". Charter schools are public schools that are innovative while still being held accountable for improved student achievement. Click here for Charter School Information…. Tucson Charter Schools.
University and Colleges
Arizona Department of Education
Public School District Links –
Below is a map identifying the Tucson Schools Districts and their location through out PIMA County. Click on the link and you will be directed to the website of the School District.
The Oracle Elementary School District is NOT shown on the map, but would be just north of Catalina, shown in area 10.
The Pima County map identifies all School Districts in the County. Districts shown in Yellow do not have a website, clicking on them will take your to "great schools.net" through which available information can be found.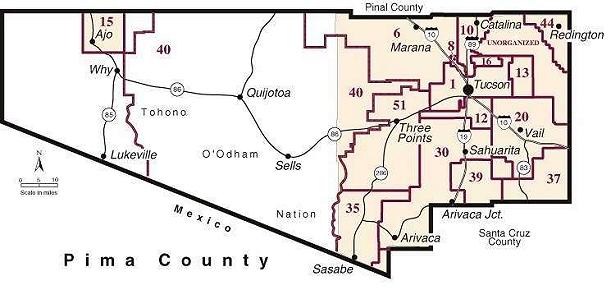 To obtain Arizona Department of Education "Report Card" for any school within a school district, click here – Arizona School Report Cards – to be directed to the Arizona Department of Education site with that information.
Schools by District number –

15 – Ajo School District
51 – Altar Valley Elementary School District
10 – Amphitheater School District
16 – Catalina Foothills School District
39 – Continential Elementary School District
37 – Empire Elementary
08 – Flowing Wells Unified School District
NA – Oracle Elementary School Distrist
44 – Redington Elementary
30 – Sahuarita School District
12 – Sunnyside Unified School District
13 – Tanque Verde Unified School District
01 – Tucson Unified School District
20 – Vail Unified School District
Tucson Private Schools
AmeriSchools Academy – www.amerischools.org
Ascension Lutheran School – www.ascensionschool.org
Basis School – www.basisschools.org
Casas Christian School – www.casaschristianschool.com
Castle Hill Country Day School – www.castlehillschool.com
Cornerstone Christian Academy – www.cca-tucson.org
Desert Christian Schools – www.desertchristian.org
Faith Community Academy –www.fcatucson.org
Faith Evangelical Lutheran School – www.faith-lutheran.org
Fountain of Life Lutheran School – http://follutheran.org/
Green Fields Country Day School – http://www.greenfields.org/
Immaculate Heart Academy – www.immaculateheartschool.com
International School of Tucson – www.istucson.org
Khalsa Montessori School – www.khalsamontessorischool.com
Kino School – http://kinoschool.org/
La Paloma Academy – www.lpatucson.org
Our Mother of Sorrows Catholic School – www.omosschool.com
Presidio Schools – www.presidioschool.com
Pusch Ridge Christian Academy – www.prca-tucson.org
Redeemer Lutheran School – www.redeemertucson.org
River of Life Christian School – http://tucsonriveroflife.com/
St. Cyril of Alexandria Catholic School – www.stcyril.com
St. Elizabeth Ann Seton Catholic School – www.school.seastucson.org
St. Gregory College Preparatory School – https://gregoryschool.org/
St. Joseph Catholic School – http://www.stjosephtucson.org/
St. Michael's Parish Day School – www.stmichael.net
Tucson Academy of Leadership & Arts – http://tucsonacademy.iwap.com
Tucson Country Day School – www.tcdcharterschool.com
Tucson Hebrew Academy – www.tucsonhebrew.org
Tucson International Academy – www.tucsoninternationalacademy.com
Tucson Jewish Community Center – www.tucsonjcc.org
Tucson Waldorf School – www.tucsonwaldorf.org
Abbie Loveland Tuller School – www.abbieschool.org
Turning Point School – http://www.turningpointschool.org/
High Schools
Salpointe Catholic High School – https://www.salpointe.
St. Augustine Catholic High School – www.staugustinehigh.com
PPEP Tech High School – www.ppeptechs.org
Tucson Private Schools – Without Websites:
Academy of Tucson Elementary – (520) 886-6076 Middle – (520) 749-1413 High School – (520) 733-0096
Carden Christian Academy Center Grades PK-8 2727 N Swan Rd. Tucson, 85712 (520) 327-8991
Dove Christian School Grades 1-12 166 E. Roger Rd. Tucson, AZ 85705696-0884
Highland Free School Grades K-6 510 S Highland Ave. Tucson, 85719 (520) 623-0104
Ironwood Hills Christian School Grades 1-11 2245
Ironwood Hills Dr. Tucson, 85745 (520) 624-3896
San Xavier Mission School Grades K-8 1980 W San Xavier Rd Tucson, AZ 85746 (520)294-0628
Santa Cruz Catholic School Grades PK-8 29 West 22nd Street, Tucson, AZ 85713 (520) 624-2093
Saints Peter & Paul School Grades K-8 1436 N Campbell Avenue, Tucson, AZ 85719 (520) 325-2431 St.
Ambrose Elementary School Grades PK-8 300 S Tucson Blvd, Tucson, AZ 85716 (520) 882-8678
St. John the Evangelist School Grades PK-8 600 W Ajo Way Tucson, AZ 85713 (520) 901-1975
St.Michael & All Angels Day School Grades K-8 602 N Wilmot Rd Tucson, AZ 85711 (520) 722-8478
Tucson Christian School Grades PK-8 2855 N Craycroft Rd. Tucson, AZ 85712 (520) 326-2395
School for Disabilities & Gifted:
Arizona Childrens Home Assoc. Grades K-11 (520) 622-7611
Gateways School for the Gifted- http://gatewaysschool.com/ (520) 749-5656
Satori School– www.satorischool.org (520) 887-4003
Interested in Tucson Area Real Estate Or New Home Communities? We can help!
Conclusion
Thank you for visiting www.premiertucsonhomes.com! It's one of the top real estate websites in Tucson. Our clients say that, not us.
Our website provides information on communities and neighborhoods in the greater Tucson area. Want more? Give us a call – 520-940-4541. We are ready to answer your questions and help you get the information you are looking for.
We are a top Realtor duo in Tucson, AZ since 2002. Read our client testimonials. Give us a call. We look forward to making your home buying or selling a home an enjoyable experience for YOU!
Considering Tucson AZ as a place to live OR moving to Tucson? We can help!
Sign UP to receive daily HOME TRACKER UPDATES - OR - Our Monthly NEWSLETTER. And get regular updates on the Real Estate Market and events in Tucson, AZ.
Questions about the Tucson Real Estate Market or Tucson Homes for Sale? Call Us - 520 940 4541 OR complete the - CONTACT FORM - and we will get right back to you!