Top 5 Home Improvement Projects That Buyers Actually Want
[quickshare]
Home Improvement Projects To Make Your Home Standout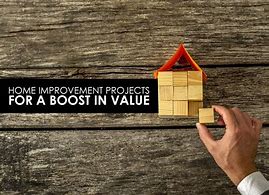 Put these home improvement projects at the top of your "to do" list if you are thinking of selling your home? Or giving it a face lift?
Consider upgrades that will boost your homes value and make it more appealing to buyers.
Here are five home upgrades you won't regret and are well worth the investment.
Home Improvement Project #1 – A Bathroom Renovation
The bathroom is one of the most valuable rooms in the house. And the second best room to renovate. Right after the kitchen.
If you choose to undergo a full bathroom remodel, you could recoup 63.8% of the cost in resale value.
Is it worth taking out a loan to help pay for your renovation? That depends how long you will live in the home before selling. And update the flooring, shower area, and fixtures may not cost all that much.
Don't want to spend a ton of money on a bathroom renovation? Make smaller changes first—start with new shower fixtures and a new sink faucet.
You could also swap out your old shower curtain for a more modern one. Or upgrade your bathroom storage to woven baskets for a farmhouse-chic feel.
Home Improvement Project #2 – New Paint
Upgrading your walls with a fresh coat of paint is one of the easiest upgrades. And for cost-conscious homeowners it provides plenty of opportunities to showcase your personality.
The average cost to paint a 120-square-foot room is about $100. Not much cost for a big impact. So consider painting all high-impact spaces like the master bedroom or living room.
Additionally, if you're trying to sell your house, opt for a neutral color. This will make your home more enticing to potential buyers.
Home Improvement Project #3 – Cabinet Upgrades
Invest in some decorative liner to give your cabinets a new look or swap out old knobs for new ones. This simple project is a good way to give your home a luxurious, modern feel.
If you live in the southwest consider tile for your floors. The trend in the southwest is tile and area rugs. Or NO rugs at all. Bedrooms tend to be the exception.
Also consider laying down tiles in the cabinet underneath your sink. Many people ignore this area, but you could make it a usable space with minimal effort.
Home Improvement Project #4 – Energy Efficient Appliances
Another cost-effective home upgrade is replacing your old appliances. New appliances save energy and are a lot more reliable.
And buyers don't want to buy a home and then start spending money on appliances.
Look for appliances that are ENERGY STAR certified. They use less energy and will save you money in the long run by reducing your electricity bills.
If you don't want to drop a ton of money on a new appliance, check your home warranty to see if it covers a replacement.
Most warranties will cover appliances that have broken down due to normal wear and tear. So if you have one that's starting to lose function, this may be your best bet.
But be aware most will "fix" the problem but not replace the appliance unless it is not repairable.
Home Improvement Project #5 – Improved Curb Appeal
It doesn't take much to enhance curb appeal. Schedule a weekend or two and spruce up the outside of your home.
Tackle these easy tasks. Trim dead branches from trees in your front and backyard.
While you're at it, be sure to trim hedges and overgrown bushes.
Stain your porch or deck. Pressure wash your driveway, sidewalk, and home's exterior.
Replace loose or missing shingles on your roof. Clean your gutters. Get rid of weeds and plant a small garden if you have the space.
These items will depend on where you live. In Tucson and much of the southwest, we don't have hedges and bushes.
Cactus and natural desert foliage is the norm. And crushed granite and boulders a primary landscaping style. Water conservation is a state of mind.
Most southwest homes don't have decks. Why not. Termites. Wood decks are food carts to termites. But if you have a Ramada over your patio, get it cleaned, repaired and painted.
The Above Article Provided By Kay Carter
Thinking About Selling Your Home In The Greater Tucson Area?
Selling a home requires more than listing it in the Tucson MLS system. It's about marketing. Marketing through multiple online channels.
To no one's surprise, 80% of home buyers start their search on the internet. Homes must be visible on multiple internet channels. The more visible a home is, the faster it will sell.
And the photos on the Tucson MLS make a difference. You can spend lots of money on home improvement projects and staging. But if that effort isn't correctly shown in the MLS photos, you are not getting the full benefit.
We use multiple online marketing channels to showcase your home. We will build a stand-alone website built to show your home. Our marketing program targets key cities in the U. S. based on the season.
For luxury listings, our drone service provides video of your home and neighborhood. This video along with professional photos helps the online buyer see and feel your home. Their "new" home.
To learn more about how we can help you sell your Tucson home, call us – 520-940-4541 – to arrange a meeting. We will visit your home and prepare a comparative market analysis.
Then we will meet with you to review our analysis. We will go over our Comparative Market Analysis for your home in detail. And the review our marketing program to "get your home sold!"
Considering A Home In Tucson, AZ?
Are you thinking of buying a home in the greater Tucson area? Finding the right home can be a challenging process. But we can make the process much less stressful for you.
We have been Tucson Realtors since 2002. We know Tucson and the Tucson Real Estate market. As a top Realtor duo, we invest the time to understand your home buying interests and desires.
At our first meeting, we will review the current real estate market with you. Show you the market data and then walk you through the Arizona home buying process.
Why? We want you to know what to expect. And what to plan for.
Interested in new construction? We'll brief you on buying a new construction home. And what's unique about the process.
For us, you are not another real estate transaction. You are a client and, future friend. We strive to create a relationship that continues long after you move into your home. Review our profiles. Check out our backgrounds, education, and certifications.
We are here to help you "know what you need to know" to buy a home in Tucson, AZ. We provide you information on Tucson events, places to shop and restaurants. Our resources include contractors, electricians, and home services. We will also help you get deals on tile and paint to make the home you buy yours. Our professional service backgrounds mean we put you first!
Conclusion
These home improvement projects will help you home stand out to buyers. Today's buyers don't want to take on projects after they purchase a home. So having the "right" things done before you list your home is a big step to getting it sold.
Thank you for visiting www.premiertucsonhomes.com! It's one of the top real estate websites in Tucson. Our clients say that, not us.
Our website provides information on communities and neighborhoods in the greater Tucson area. Want more? Give us a call – 520-940-4541. We are ready to answer your questions and help you get the information you are looking for.
We are a top Realtor duo in Tucson, AZ since 2002. Read our client testimonials. Give us a call. We look forward to making your home buying or selling a home an enjoyable experience for YOU!
Sign UP to receive daily HOME TRACKER UPDATES - OR - Our Monthly NEWSLETTER. And get regular updates on the Real Estate Market and events in Tucson, AZ.
Questions about the Tucson Real Estate Market or Tucson Homes for Sale? Call Us - 520 940 4541 OR complete the - CONTACT FORM - and we will get right back to you!