The Downtown Clifton Hotel – Tucson AZ
A Unique Hotel In Downtown Tucson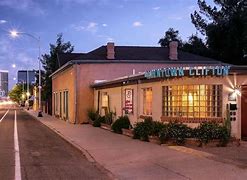 The Downtown Clifton Hotel offers stylish accommodations in historic Armory Park. It is in the historic Armory Park community on the edge of Barrio Viejo.
It is a unique place to stay in Tucson, Arizona. The Downtown Clifton hotel is a part of the heart and soul of downtown Tucson and yet a world apart.
Built in 1948 along US route 80 that linked Douglas to the south and Phoenix to the north. And by the way, US Route 80 is now Stone Avenue in Tucson.
In 2014, the hotel changed ownership. The new owners restored the facility into The Downtown Clifton Hotel.
In 2019, the Downtown Clifton added 22-rooms. It is a stylish Sonoran Modern expansion that speaks to the original vintage feel of the hotel. The modern rooms have wood beam ceilings, brick walls and concrete floors.
Red Light Lounge
With the restoration came a new bar and restaurant – The Red Light Lounge.
The Lounge bills itself as "a neighborhood bar tucked inside a neighborhood hotel." It a perfect place to kick back with a drink in the early Tucson evening.
If you are out and about, its a great place for a nightcap when it turns from hotel patio to local hangout.
At the bar you find local and regional beer, wine, classic and craft cocktails. The menu at the restaurant features contemporary Tucson cuisine.
The Bunkhouse
The original hotel rooms are now the "Bunkhouse".
The rooms would ;make any cowboy think they had died and gone to heaven. They are the swankest bunkhouse this end of a trail ride.
Each room features mid-century hip with all the modern amenities. An eclectic western vibe stands out with craftsmanship and curated art.
Rooms feature king beds on wooden platforms handmade in Tucson. They complement the original wood beam ceilings. Saddle blanket bedspreads serve as a cheeky contrast to polished concrete floors. Bathrooms display original 1940s tile work.
Each room has a desk and a 42 inch high-def flat screen smart TV that streams Netflix or Hulu Plus as well as live tv.
La señorita
The 22 room addition is know as the La Señorita rooms. They accompaniment the original bunkhouse rooms and feature upstairs and downstairs rooms.
Ten upstairs rooms have floor to ceiling windows. They provide views of the historic barrios surrounding the hotel. Two rooms –
#29 and #30 – feature spectacular views of A Mountain to the west.
All 22 rooms have queen beds on graceful, hand painted platform bed frames. These rooms offer spacious sitting areas where you can read a book or relax with a drink from our Red Light Lounge.
Where To Go – What To Do?
Take a walk to discover great food and interesting places. Go south to blocks to check out the Bon Boutique, a detour into Parisian casual chic.
Eat at the Desta Ethiopian Café or pick up a few necessities at 5 Points Café and Market.
Head west through Barrio Viejo and see A Mountain. Its significance to Tucson dates back hundreds of years.
Grab a bite to eat at El Minuto Café, which has been serving Sonoran food in the Barrio since 1939.
Go north from the Clifton to the revitalized downtown and quirky 4th Avenue shoping. Tucson's central area offers live music, nightclubs, dining and an interesting bar scene.
All are accessible by foot, bicycle, or streetcar.
For more on this unique Tucson hotel……Head Here!
Considering A Home In Tucson, AZ?
Are you thinking of buying a home in the greater Tucson area? Finding the right home can be a challenging process. But we can make the process much less stressful for you.
We have been Tucson Realtors since 2002. We know Tucson and the Tucson Real Estate market. As a top Realtor duo, we invest the time to understand your home buying interests and desires.
At our first meeting, we will review the current real estate market with you. Show you the market data and then walk you through the Arizona home buying process.
Why? We want you to know what to expect. And what to plan for.
Interested in new construction? We'll brief you on buying a new construction home. And what's unique about the process.
For us, you are not another real estate transaction. You are a client and, future friend. We strive to create a relationship that continues long after you move into your home. Review our profiles. Check out our backgrounds, education, and certifications.
We are here to help you "know what you need to know" to buy a home in Tucson, AZ. We provide you information on Tucson events, places to shop and restaurants. Our resources include contractors, electricians, and home services.
But most important, our professional service backgrounds mean we put you first!
Conclusion
Thank you for visiting www.premiertucsonhomes.com! It's one of the top real estate websites in Tucson. Our clients tell us that.
Our website provides information on communities and neighborhoods in the greater Tucson area. Want more? Give us a call – 520-940-4541. We are ready to answer your questions and help you get the information you are looking for.
We are a top Realtor duo in Tucson, AZ since 2002. Read our client testimonials. Give us a call. We look forward to making your home buying or selling experience enjoyable YOU!
Sign UP to receive daily HOME TRACKER UPDATES - OR - Our Monthly NEWSLETTER. And get regular updates on the Real Estate Market and events in Tucson, AZ.
Questions about the Tucson Real Estate Market or Tucson Homes for Sale? Call Us - 520 940 4541 OR complete the - CONTACT FORM - and we will get right back to you!