Kitchen Remodeling Ideas for Seniors – And Everyone Else
10 Tips To Make It A Perfect Place

Planning a kitchen remodeling? Keep these tips in mind.
Kitchens should do more than serve as a space for cooking. And they do. As every party giver knows, everyone migrates to the kitchen.
But, kitchens are also a multi functional space. They are a place for washing, cleaning, and storing dishes, utensils, and cookware.
Getting the most out of the kitchen space requires a well thought out design. A design that makes the user the king or queen of the space.
And one more thing. The user's age is important. Seniors more than younger homeowners need light and functional space.
So if you are considering a kitchen remodeling include these 10 tips in your design.
10 tips to make a kitchen more convenient for seniors and anyone else. Not only today, but in the future.
Kitchen Remodeling To Improve General Lighting
Out of every three people aged 65 and up, one will have a problem with their sense of sight. But why wait for it to occur before you add lighting?
Start with the general lighting — otherwise known as down lighting.
Check the lights your kitchen currently has. If you still have old, incandescent light bulbs, replace them. Even old variants of fluorescent light bulbs need replacement.
Choose new LED lights because they emit light that's easier on the eyes. A high utility kitchen shouldn't have one source of light whether you are a senior or not.
Yes, a main lighting fixture is OK, but add other lighting to improve illumination. Can lighting will make any dark area of the kitchen bright.
And have the area can lights on separate switches. That way, the you won't be completely in the dark if one of the lights don't work.
Also, put the light switches in a familiar and easy-to-reach places.
No one, senior or not, likes to extend their arms to turn lights on and off. Check if the switches are hard to use or not. Replace the standard light switches with rocker light switches.
Task Lighting
This type of lighting will help anyone, including seniors, find items faster. Task lighting focuses on the specific areas where people need it. Whether it's daytime or night.
Under cabinet lighting will brighten the counter space. And make that receipt book easier to read.
But consider lighting the inside of draws and cabinets. Searching the pantry to find that special spice can be a pain. Adding task lights will make it much easier.
Today's small battery operated LED lights are perfect for this.
And if you have an island in the kitchen, consider pendant lights. Not only will they add light, they will be focal point of the kitchen.
Check if your task lighting fixtures have a diffuser or lens. Without them light won't be even around the room.
Illuminate the Ceiling
If your kitchen cabinets do not reach to the ceiling consider up-lighting. It serves both aesthetic and functional purposes. It achieves the former because of how it makes people look up the ceiling as well.
As for the latter, up-lighting helps spread the light throughout the room. Small LED lights or "light strips" are perfect for this.
The brighter the ceiling, the more light reflects around an area. Don't rely on natural sunlight to keep your kitchen bright for seniors.
Better Storage Placement
Instead of buying expensive adjustable cabinets, why not just place the items in more accessible areas? You don't even have to spend any money. Place cookware such as pots and pans in easy-to-reach cabinets.
Don't place the items that seniors would usually use on the cabinets located at the top.
Placing the most frequently used items in lower areas will help the elderly find what they need without having to exert a lot of effort. This is also essential if the seniors are in wheelchairs. However, don't put them so low that seniors would have to bend their knees and backs.
The ideal height for the storage placement is between the level of the waist and the shoulder areas. If you do have some money, you can buy inserts for the cabinets and drawers. Keeping the items organized inside will help seniors know exactly where they can find things.
You can even have pull-out drawers and pull-down shelves. The former allows seniors to see the items better thanks to general lighting and even natural daylight. On the other hand, the latter feature will help them grab items located in upper areas — they won't have to use a stool anymore.
Have a Relatively Short Kitchen Island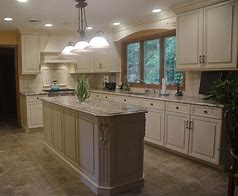 The kitchen island is the main attraction of the room, but it doesn't have to be tall and grand. In fact, a smaller kitchen island is better for seniors. Look for one that is around 30 inches height.
This will help seniors who are in wheelchairs or who are suffering back problems use the area with relative ease.
Still, the height matters on the height of the senior citizens. If they are quite tall and have no need for wheelchairs, you can opt for the standard 36-inch-high kitchen island.
But we don't recommend the 42-inch variants since seniors will eventually get shorter in height as their bones weaken.
Use Built-In Appliances
The benefit of using built-in appliances is that they use space in a smart manner. Thus, the elderly won't have to deal with a cluttered counter top — the microwaves all have their own fixed locations.
Plus, you won't put seniors in harm's way when the electrical appliances get too close to wet areas.
In case you eventually buy more kitchen appliances, place them far from the sink. Ideally, the seniors will follow the initial placement and not place them in spots prone to getting wet.
Also, get appliances with large buttons and labels that are big enough for seniors to read.
Avoid Slippery Floors
You should apply the kitchen floor with an anti-skid floor texture additive. The risk of a senior slipping on the floor is not impossible, especially when it's in a room with wet food, drinks, and a sink area.
Look for floor areas that often get wet and place anti-fatigue on them.
One floor material to consider is engineered vinyl planks, which look like hardwood but are completely waterproof. Also, avoid placing anything on the floor.
If the surface is not free of clutter, a senior may trip over some items and get seriously hurt.
There are many aspects that can make a kitchen safer to use for seniors. Apart from lighting, you have to take note of anti-glare counter tops, contrasting colors, and convenient storage options.
Don't rush into remodeling the kitchen. Take your time and consider the needs and constraints of the seniors.
An Ergonomic Sink
Even if elders don't go to the kitchen to cook, they might use it to wash the dishes or their hands. It's important to pick a faucet design that isn't hard to use. Ensure that it's placement makes it easy to reach.
Pick one that releases water with a single turn or push — the simpler, the better.
Second, think about the sprayer attachments. The seniors may need it to wash and prepare their vegetables and fruits for their meals. Even if they don't, a sprayer attachment makes washing the dishes faster and easier. Get one that's relatively light and easy to both place and remove.
For people who use cold and hot water, ensure that the latter isn't too hot. Remember that the elderly are likelier to experience scalds or scald burns at home.
In particular, they may experience them in the bathroom and the kitchen remodeling. Thus, it's essential to set the hot water temperature to lukewarm levels.
Moreover, the structure of the sink and the area around it needs adjustments. If there are seniors who are in wheelchairs, consider getting a sink with a height-adjusting feature.
But if this is too costly or time-consuming to accomplish, you can just get rid of the space under the sink instead.
Improve Contrast
Better lighting isn't the only way to help seniors navigate the kitchen well. A kitchen remodeling project needs color. Surfaces and furniture can create significant contrasts.
For example, you can have white or any light-colored drawers and cabinets if you have a dark kitchen floor.
This kind of visual contrast helps seniors know how near or far they are from the furniture. If you're unsure which colors to use for your kitchen, consider pastel or muted tones.
Calmer shades of blue, green, and grey are more pleasing to the eyes while wooden cabinets evoke a classic aesthetic.
Moreover, you can install lighting at the base of the kitchen furniture. This further differentiates the surface from the cabinets through visual cues.
Minimize Glare
Having adequate lighting is essential to a successful kitchen remodeling project. But you should also watch out for glare.
If the light reflects too much, glaring occurs and the elderly would find it difficult to see properly. You must find a balance between having a well-lit kitchen and one that doesn't suffer from constant glares.
One way to counter glare is to look for matte surfaces. Stone counter tops usually reflect light, but you can find variants designed to minimize glare.
Another option is to replace your counter top with one made of concrete — this type won't cause any glares whatsoever.
Article by Karen Paulsen
As a professional writer and editor, she specializes in home & kitchen, garden & tools, and fitness topics. She is a stickler when it comes to getting the facts right, dependable and efficient.
Considering A Home In Tucson, AZ?
Are you thinking of buying a home in the greater Tucson area? Finding the right home can be a challenging process. But we can make the process much less stressful for you.
We have been Tucson Realtors since 2002. We know Tucson and the Tucson Real Estate market. As a top Realtor duo, we invest the time to understand your home buying interests and desires.
At our first meeting, we will review the current real estate market with you. Show you the market data and then walk you through the Arizona home buying process.
Why? We want you to know what to expect. And what to plan for.
Interested in new construction? We'll brief you on buying a new construction home. And what's unique about the process.
For us, you are not another real estate transaction. You are a client and, future friend. We strive to create a relationship that continues long after you move into your home. Review our profiles. Check out our backgrounds, education, and certifications.
We are here to help you "know what you need to know" to buy a home in Tucson, AZ. We provide you information on Tucson events, places to shop and restaurants.
Our resources include contractors, electricians, and home services. So we can help you with that kitchen remodeling project after you move in.
We will also help you get deals on tile and paint to make the home you buy yours. Our professional service backgrounds mean we put you first!
Thinking About Selling Your Home In The Greater Tucson Area?
Selling a home requires more than listing it in the Tucson MLS system. It's about marketing. Marketing through multiple online channels.
To no one's surprise, 80% of home buyers start their search on the internet. Homes must be visible on multiple internet channels. The more visible a home is, the faster it will sell.
And the photos on the mls make a difference. You can spend lots of money on home staging, but if the photos aren't great it doesn't matter. Staging and stunning photos make it all come together.
We use multiple online marketing channels to showcase your home. We will build a stand-alone website built to show your home. Our marketing program targets key cities in the U. S. based on the season.
For luxury listings, our drone service provides video of your home and neighborhood. This video along with professional photos helps the online buyer see and feel your home. Their "new" home.
To learn more about how we can help you sell your Tucson home, call us – 520-940-4541 – to arrange a meeting. We will visit your home and prepare a comparative market analysis.
Then we will meet with you to review our analysis. We will go over our Comparative Market Analysis for your home in detail. And the review our marketing program to "get your home sold!"
Conclusion
Buying an older home and renovating may be just the ticket to buying a home in Tucson, AZ. But renovation better include a kitchen remodeling plan to get the most out of your home when you sell.
Thank you for visiting www.premiertucsonhomes.com! It's one of the top real estate websites in Tucson. Our clients say that, not us.
Our website provides information on communities and neighborhoods in the greater Tucson area. Want more? Give us a call – 520-940-4541. We are ready to answer your questions and help you get the information you are looking for.
We are a top Realtor duo in Tucson, AZ since 2002. Read our client testimonials. Give us a call. We look forward to making your home buying or selling a home an enjoyable experience for YOU!
Sign UP to receive daily HOME TRACKER UPDATES - OR - Our Monthly NEWSLETTER. And get regular updates on the Real Estate Market and events in Tucson, AZ.
Questions about the Tucson Real Estate Market or Tucson Homes for Sale? Call Us - 520 940 4541 OR complete the - CONTACT FORM - and we will get right back to you!