Important Things You Need To Know About Buying A New Home
5 Important Things To Know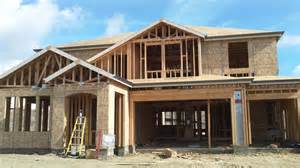 Buying a new home is different from buying a resale from the current owner. How much different will depend on where you start.
A big benefit for a new built home is NO Updating! Everything is new and in working order and backed by the manufacturers warranty.
This pristine condition extends to cosmetic details as well.
A new home won't have any scratches, dents, dings, or stains in the walls, trim, floors, appliances, or fixtures. You get to put them there yourself.
On the down side, Landscaping, window treatments and paint are on YOUR DIME!
Also, some new home builders allow you to make some design decisions to suit your personal tastes. Of course these "upgrades" add to the price of the home.
Buying a new home can be as easy as walking into a recently built home the builder has in their "inventory". Builders usually want to sell these as soon as possible.
So, if you like the home as built you may have a quick and easy deal.
Standard – Semi Custom – Custom
Building a new home on an vacant lot is a little different. Now you not only need to choose a floor plan, choosing options and upgrades become a big part of the process.
If you are building a custom home, you should plan on even more steps, more time, more choices and more money.
For those using a mortgage to buy a new home, get pre approved before you start looking. Understanding the amount you can borrow will help you make the better choices along the way.
And don't forget the extras! Landscaping, window treatments, potential property taxes and HOA dues are just a few. The builder will usually provide minimal landscaping in the front of the home. The backyard landscaping is usually the buyers responsibility.
Here are 5 important things to consider when buying a new home.
1 – When Buying A New Home Always Look Before You Leap
Nothing beats the feeling of building a new home. Everything is new. No dust, no scratches, nothing to "re-do".
Although straight forward, building a new home aren't for everyone. Take a hard look at your specific situation. If you are buying a "spec" home or having one built in a new subdivision, as yourself;
How far away is the new subdivision from work, the city center and activities you want to do?

Will you mind the commute if it is necessary?

How long will it take to finish the new subdivision?

Does the cookie cutter nature of a new subdivisions bother you?

Do you mind the potential closeness of homes and potential lack of privacy?

Do the amenities of the new subdivision meet your interests?
2 – Before Buying A New Home Explore New Home Subdivisions And Builders
When building a new home, consider using a real estate agent to work with. The agent will be your advocate though out the entire process. When selecting a real estate agent, remember
The new home sales office agent works for the builder and NOT you.

The sales agent is trying to sell a new home, not help you make the better decision for you and your family.

As soon as you select a Realtor to work with, tell them you are buying new construction.

Your real estate agent must go with you on your first visit to any new home sales office and register you.

Using a Realtor does NOT cost you any more. Builders want Realtors to bring them buyers.

Work with your real estate agent to research new subdivisions and homes for you.

Drive around the neighborhood and check out the amenities and the quality of the homes.

Visit the model homes.

Take notes and photographs to help you remember what you saw.

Ask if there will be a homeowners' association (HOA). HOA fees and rules will vary quite a lot.

Are you willing to wait for the subdivision to be "built out"?

Ask your agent about shopping and amenities in the area.
3 – When Buying A New Home Establish What's Standard and What's Extra
Amenities are features that benefit the entire community. This would include items such as a clubhouse, health and fitness center or a gated entrance.
Upgrades refer to features or items you will need to pay extra for to enhance your home. This includes flooring options, appliances, lighting options and oversize windows or sliding doors.
Get the feature sheet for the homes you're interested in. Read them and compare feature to feature between builders. Find out what comes with the base home price. Your Realtor will help you in doing this.
If you don't understand exactly what the builder is offering, ask! Take notes that include date, time and who said what. There are no dumb questions. Not knowing can cost you money.
Some other things to keep in mind:
Builders want you to make a lot on upgrades. But it may be better to buy the "standard" items and do the upgrade yourself after you close on the home.

When haggling over price, consider asking the builder to "throw in" some upgrades.

They want to sell homes at the published price.

They might consider lot premium discounts and upgrades to sweeten the deal for a buyer.
4 – Even Though Your Are Buying A New Home Have The Home Inspected
Most home builders don't want the buyer doing inspections as they are building a home. Try to negotiate them into the contract. You don't know what is behind the walls after the dry wall is up. You, the buyer, will pay for the inspector, but its worth it.
We always recommend to our clients have inspections done. It is amazing what the inspectors uncovered. Broken trusses, nails in electrical wires, nails in water pipes, and disconnected electrical wiring. Things you don't see "behind the walls".
Have the home inspected at each phase of building. After the foundation slab. Before dry walling. Times when potential problems are easy to spot. If the builder objects to this, consider it a red flag.
When buying new construction, builders provide various warranties on their work. Warranties will run from one to ten years. Appliances will come with manufacturers warranties. Review the warranty you receive to understand what is and isn't covered.
5 – Consider Using The Builder's Preferred Lender When Buying A New Home

Builders often have "in house" mortgage lenders or relationships to an outside lender. Using a builder's preferred lender isn't required, but it may save you money.
Also, contact two or three mortgage lenders for quotes. Understanding the "trade-offs" will help you in the long run. Ask your Realtor for some suggest lender contacts.
And One More Thing
8 Things To Know BEFORE You Enter The New Home Builders Sales Office
It is important for you to understand
You have the right to be represented by a Realtor when buying a new construction home.
BUT your Realtor

MUST

be with you on your

FIRST

visit to the new home builder's sales office and register you!
You will not pay more to have a Realtor represent you when buying a new construction home in Tucson, AZ.
If you don't have a Realtor with you on your first visit – KNOW THIS
The sales agent at the builder's sales office works for the builder,

NOT YOU!

They will ask you to "register" when you come in – or shortly after.
If you register, you are

GIVING UP YOUR RIGHT

to be represented by a Realtor at that builder's site in the future.
Chances are the builder's sales agent

WILL NOT

disclose this to you!
If you register at the builder's site, you are on your own to work through the builder's contract and all purchase-related decisions. Yes, the builder's sales agent will help you with the paperwork. They will answer your questions.

BUT

with who in mind? You or the builder they work for? Will they tell you there are homes listed for sale with the floor plan you want at less than it will cost you to build it?
We Know The New Home Construction Process

Building a new home will have its challenges. Choosing the RIGHT Realtor to work with when buying a new home will make the process easier.

Tucson AZ has many new home subdivisions under construction at any one time. Take a look at the subdivisions, floor plans and inventory home available – HERE!
If you want to buy a new home or see any of the MLS listings in Tucson AZ, we can help!
Conclusion
Thank you for visiting www.premiertucsonhomes.com! It's one of the top real estate websites in Tucson. Our clients tell us that.
Our website provides information on communities and neighborhoods in the greater Tucson area. Want more? Give us a call – 520-940-4541. We are ready to answer your questions and help you get the information you are looking for.
We are a top Realtor duo in Tucson, AZ since 2002. Read our client testimonials. Give us a call. We look forward to making your home buying or selling experience enjoyable YOU!
Sign UP to receive daily HOME TRACKER UPDATES - OR - Our Monthly NEWSLETTER. And get regular updates on the Real Estate Market and events in Tucson, AZ.
Questions about the Tucson Real Estate Market or Tucson Homes for Sale? Call Us - 520 940 4541 OR complete the - CONTACT FORM - and we will get right back to you!